American Hikers Freed From Iranian Prison Arrive In New York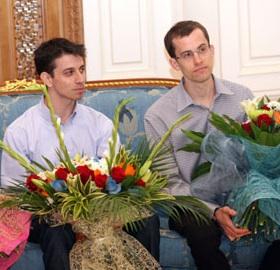 It's home sweet home for the American hikers who were imprisoned for two years in Iran.
Josh Fattal and Shane Bauer returned to the U.S., landing in New York Sunday morning, after being locked up on accusations of spying.
"We will never forget the excitement of seeing our loved ones waiting for us at the foot of the plane," said freelance journalist, Bauer. "The joy of embracing them all after so long will stay with us forever."
Article continues below advertisement
And Fattal also thanked officials from Oman for helping to free them.
"Our deepest gratitude to his majesty (the Omani King) Sultan Qaboos for obtaining our release," he said. "We are sincerely grateful to the government of Oman for hosting us and our families.
The two were jailed after being picked up while hiking along Iran's unmarked border with Iraq.
Their companion Sarah Shourd, who is engaged to Bauer, was also jailed but gained her release almost a year ago.