Amanda Knox Trial: Forensic Experts Differ On DNA Findings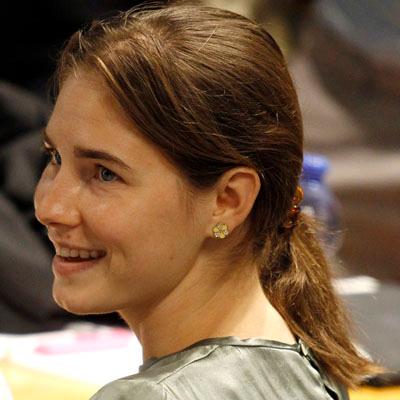 The appeal trial of Amanda Knox continued in a Perugia, Italy courtroom Tuesday, with experts clashing over the validity of DNA evidence gathered in the original trial.
Knox, 24, is the American exchange student convicted in Italy of sexually assaulting and murdering her one-time roommate, British student Meredith Kercher, with the help of two other men. In December 2009, Knox was sentenced to 26 years in jail.
Article continues below advertisement
As part of the appeals process earlier this summer, two forensic experts called to the stand by Knox's defense -- professors Carla Vecchiotti and Stefano Conti -- said in testimony that a bra clasp belonging to Kercher was "dirty" and "inadmissible" as evidence, leading to inconclusive results.
In retort on Tuesday, Patrizia Stefanoni, an Italian police forensic expert, said the DNA test of the bra clasp was carried out properly and to accurate results. (Prosecutors argued the clasp contained the DNA of one of the men who helped Knox carry out the killing, her ex-boyfriend Raffaele Sollecito.)
One moment in the appeals trial that might have turned the momentum toward Knox's camp is when a video was displayed to illustrate how sloppy Stefanoni and her crew were in handling the evidence. (Some in the courtroom actually laughed out loud at the perceived ineptitude.)
Stefanoni on Tuesday stressed there was no contamination involved in the process.
Curt Knox, Amanda's father, told reporters on Tuesday that Vecchiotti and Conti "have done a very good job in evaluating the information.
Article continues below advertisement
"I don't see it breaking down at this point. I see that it has been good for Amanda."
Amanda Knox Appeals Hearing Delayed
A verdict in the trial is expected to be handed down September 23.
However, unlike in the U.S., prosecutors can appeal an appeals verdict, and possibly put Knox on trial again. If they choose not to appeal, and the 2009 verdict is overturned, Knox could be out of jail in a month.
RELATED STORIES: