Amanda Knox Can't Eat Or Sleep As She Awaits Appeals Verdict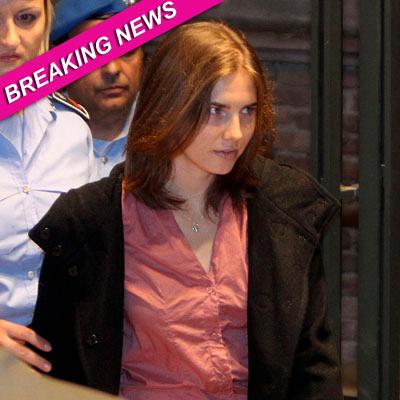 by RadarOnline.com Staff
The strain is getting to Amanda Knox.
A close friend of the American exchange student says Knox can't sleep or eat properly as she waits to find out if an appeals court in Perugia, Italy will overturn her controversial conviction for the murder of her British roommate.
Prosecutors will continue their closing arguments Monday, and the defense will sum up its case later this week;
Knox, 24, was one of three people convicted of sexually assaulting and murdering Meredith Kercher on November 1, 2007. Her body -- lying in a pool of blood, her throat slit -- was found the following day in the apartment she shared with Knox.
Article continues below advertisement
Knox was sentenced to 26 years in prison. The Seattle woman maintains her innocence and the case has attracted international attention.
Madison Paxton, a friend from the University of Washington who has moved to Perugia to be close to Knox and visits her in prison regularly, told The Associated Press that Knox has no energy and tires very easily.
"In these days coming towards the end, finding very peaceful moments is hard for her," Paxton said Sunday. "Her sleep is very disturbed, her eating is very disturbed."
In addition, Knox has lost weight and appears worn out by four years in prison. Her lawyers and family have described her as increasingly anxious as she awaits a verdict.
Amanda Knox Trial: Forensic Experts Differ On DNA Findings
Knox herself is expected to address the court in a final plea to win her freedom.
A verdict is expected early next month.
RELATED STORIES: