Amanda Knox Prosecutors Demand Life Sentence!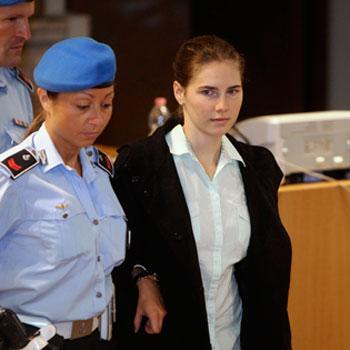 Prosecutors in the Amanda Knox murder conviction appeal trial on Saturday made the surprise argument that the Seattle woman's sentence should be extended to life behind bars!
Knox, her then-boyfriend Raffaele Sollecito and another man were convicted for the brutal 2007 murder of Amanda's fellow exchange student in Italy, Meredith Kercher from England. The two women shared a house. Knox and Sollecito were tried together and convicted in 2009. Their sentences were 26 and 25 years, respectively.
Article continues below advertisement
Their appeal -- basically a whole new trial under Italian law -- has been going on since June and wrapped up yesterday with passionate statements from both sides.
With the DNA evidence used to convict the pair now roundly criticized as unreliable, Knox, her family and defense team are growing confident the conviction will be overturned, and she'll be set free.
The prosecution isn't ready to give up.
During his closing remarks Saturday, Giancarlo Costagliola argued that the sentences for both Knox and Sollecito should be essentially doubled to life!