Amanda Knox: 'I Did Not Kill. I Did Not Rape'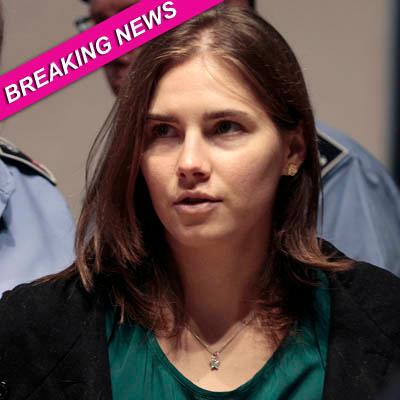 A verdict in the Amanda Knox appeals case is expected at approximately 2pm ET/11 am PT Monday, and RadarOnline.com will live stream the decision as soon as it is announced.
The American exchange student finally got her chance to address the appeals court that will decide whether to overturn her conviction in the murder of her British roommate Meredith Kercher.
Read Amanda Knox's Statement To The Italian Court
Article continues below advertisement
"People always ask who is Amanda Knox? I am the same person I was four years ago. But I have lost a friend. I have lost my faith in Italian police. I am paying with my life for something I have not done. Four years ago I didn't know what suffering was," Knox said, delivering her statement in Italian.
"I did not kill. I did not rape. I did not steal," she added. "I was not there."
Knox and Raffaele Sollecito, her co-defendant and former boyfriend, are fighting to be acquitted of the murder of Kercher.
Prosecutors have called for the pair's sentences -- of 26 and 25 years, respectively -- to be increased to life.
Knox told the court she always wanted justice for Kercher.
"I am innocent. Raffaele is innocent," she said.
At the conclusion of her statement, Knox put her hands on her face and wept.
Before Knox addressed the court, Sollecito asked the court to set both he and Knox free.
Sollecito described the original investigation, the trial and their imprisonment as "living in a nightmare."
Article continues below advertisement
"Amanda and I have spent 1,400 days in prison, more than 20 hours a day in a very small space," he told the court.
Knox did not look at Sollecito as he addressed the court, though he went into detail for the judges and jurors the night of Kercher's murder. The couple have maintained they were together at Sollecito's residence the night Kercher was killed.
He described the night as a happy, almost idyllic one for him: "I was about to hand in my thesis. I had just met Amanda, a beautiful, sunny girl." He said Knox's boss had given her time off so they could go away together for the weekend.
Throughout the ordeal, Sollecito told the court he wore a bracelet that said "Free Amanda and Raffaele."
"I have never taken it off. I think the time has come to take it off," he said, fingering it nervously.
"I hope this is a part of history, and that Amanda and I have a future."
The case is now in the hands of two judges and six jurors, who retired together within minutes of Knox's statement to consider their ruling.