Amanda Knox's Murder Conviction Is Overturned, She Is Freed From Prison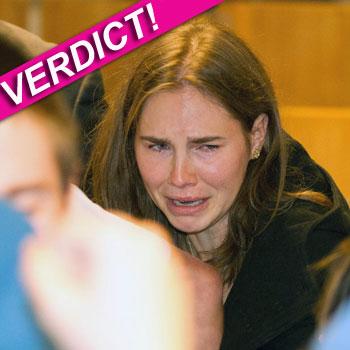 The murder conviction of Amanda Knox was overturned by an Italian court on Monday and she is free to leave prison and return to the U.S.
The verdict in the appeals case was announced on Monday at 9.50 p.m. local time.
Knox cried hysterically with joy as she heard the ruling in the medieval Perugia, Italy courtroom, as a crowd of up to a thousand people gathered in the piazza outside, some of whom were booing.
Article continues below advertisement
Knox was found guilty of defamation for implicating her former boss, Patrick Lumumba, in the crime. She was sentenced for three years for those charges, but has already served almost four years, so she is a free woman.
As RadarOnline.com previously reported, the American exchange student, 24, had appealed her conviction for the murder of her British roommate Meredith Kercher.
Earlier Monday, Knox tearfully addressed the appeals court and said: "I did not kill. I did not rape. I did not steal," she added. "I was not there."
"People always ask who is Amanda Knox? I am the same person I was four years ago. But I have lost a friend. I have lost my faith in Italian police. I am paying with my life for something I have not done. Four years ago I didn't know what suffering was," Knox said, delivering her statement in Italian.
Knox and her former boyfriend Raffaele Sollecito were convicted in 2009 of the brutal slaying of Kercher. She and Amanda were both exchange students in Perugia, and shared a small house when she was found murdered in 2007.