Amanda Knox's Family Are Sick Of Getting Harassed By Italian Prosecutors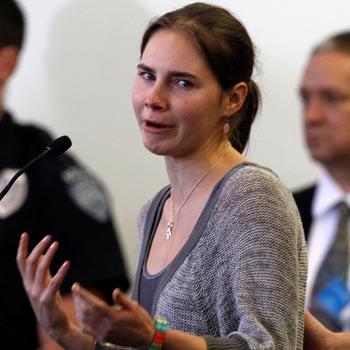 Article continues below advertisement
As RadarOnline.com previously reported, Amanda returned home to Seattle last October after serving four years in prison before the Italian appeals court overturned her murder conviction, and that of former boyfriend Raffaele Sollecito.
"We are not concerned about this appeal as Amanda's innocence was clearly and convincingly proven in her appeal trial," read the Knox family statement released on Tuesday.
"This is simply another example of harassment by the prosecution against Amanda and makes this terrible, painful incident continue to go on for Amanda, Raffaele and their families."
Despite the 24-year-old being deemed innocent of the crime by the court in Perugia, prosecutor Galati said he is still "very convinced" of her guilt because the appeals court conclusion had "omissions and many errors," according to ANSA, the Italian news agency.
Article continues below advertisement
Knox still has several other legal issues outstanding in Italy, including her appeal against a conviction for slandering her former boss, Patrick Lumumba, as well as charges of slandering her police interrogators for claiming they hit her in the head during her questioning.
In a previous exclusive interview, Amanda's father, Curt Knox, told RadarOnline.com that the family has no plans to return to Italy.
"We're more focused on getting our lives back into some semblance of normal," he told RadarOnline.com.
"It was so clear to us and so clear to the jury that Amanda and Raffaele had nothing to do with Meredith's murder."