Exclusive
Amanda Knox's Family 'Is Happy To Have Her Home For Christmas,' Says Step-Mom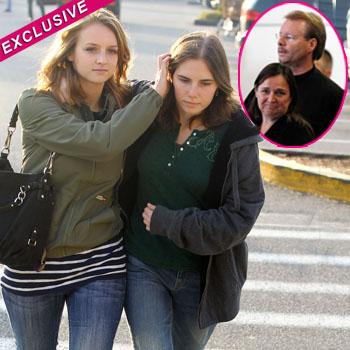 Article continues below advertisement
"We're looking forward to spending it with the family and away from the media."
The 24-year-old was reunited with her family in October after the 2007 murder conviction of her roommate, British student Meredith Kercher, was sensationally overturned by an Italian appeals court in Perugia. Amanda was originally sentenced to 26 years in jail and was incarcerated for four.
"I am looking forward to having her home for Christmas," Cassandra told RadarOnline.com, but wouldn't reveal what Amanda had on her wish list for Santa.
"I imagine there are things that she wants for Christmas, everyone does," she said.
The former oversees student has kept a low profile since returning to the States more than two months ago and has focused on settling back into her old life in Seattle.
A huge part of that transition to normality has been Amanda's new boyfriend, James Terrano, who she has often been spotted walking arm-in-arm with around their hometown.
Article continues below advertisement
The National Enquirer has reported that she is head-over-heels for the 24-year-old, and their relationship has blossomed so fast that it is being labeled as a "trial marriage," according to a source.
When asked about the new couple and if the family would welcome James as a son-in-law, Cassandra answered "no comment," with a friendly giggle.
"I read about the trial marriage just like you did," she replied coyly. "I just read it for the first time."