Amanda Knox Dating Hometown Student In Seattle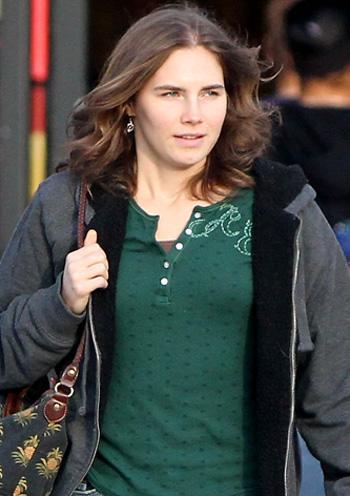 Amanda Knox has only been back home in Seattle for a month but she's already happily dating an old friend.
The 24-year-old has fallen for music student James Terrano, and the pair are spending lots of time together, according to UK's Mail on Sunday.
The couple have been seen leaving Terrano's apartment in the city's Chinatown area arm in arm and out shopping together. They reportedly spent every night last week at his home.
Article continues below advertisement
Terrano's brother, nuclear physicist William, 27, confirmed the relationship.
"Yes, she's dating my brother," he said. "They have known each other for years. We've all been friends since before Amanda went to Italy."
Amanda's new beau is a music student at the University of Washington and Knox is said to be returning to school soon to finish her education.
She had been studying languages when she took her fateful trip to Italy in 2007 where she was accused and convicted of murdering British student Meredith Kercher. Knox was released last month after her conviction with its 26-year sentence was overturned.
Her ex-boyfriend Raffaele Sollecito, who was also convicted and released, recently told Italian TV show Quarto Grado that he accepts his relationship with Knox is done saying, "it is all over between us."
"I still have a great affection towards her but nothing else," he revealed. "Our love was like a seed that was not allowed to grow because it was brutally stamped on."
RELATED STORIES: