Amanda Knox: Sexually Harassed Behind Bars & Told She Was HIV Positive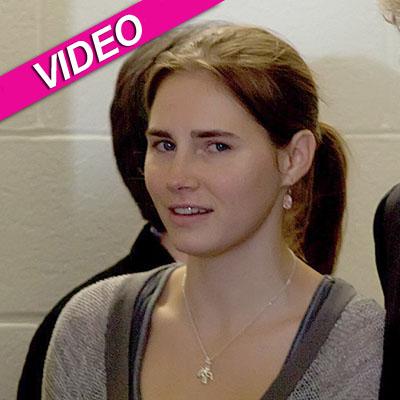 As Amanda Knox ventured out for the first time over the weekend in her hometown of Seattle, to pick up toothpaste and a candy bar, we're learning new details about the terrifying four years she spent in Italy's Capanne prison -- a period that included sexual harassment and prison officials telling her (falsely) that she was HIV positive.
ABC News reported the American exchange student claims she was subjected to numerous incidents in which prison officials took liberties with her in a below-the-belt manner: On one occasion, a male guard broke policy and entered her cell alone and made sexually-based remarks; another incident consisted of a high-ranking authority at the prison calling her in his office for a late night meeting in which he wanted to talk about sex.
Article continues below advertisement
Most shockingly, the 24-year-old said she was falsely told she was HIV Positive by prison officials, who forced her to compose a list of all the sexual partners she'd had -- a list that was subsequently leaked to Italian media and published.
Knox wrote in her diary at the time of the faux diagnosis: "Please oh please, let it not be true. I don't want to die."
"I think the Italian courts ... practically made sure that Amanda was going to be harassed in prison," Vanity Fair's Judy Bachrach told the network, "since they made her sex life so much of a focus of the first trial."
Knox could sue the prison for the alleged indiscretions, but would have to go back to Italy to file such a suit, ABC reported.
Knox, who last week was acquitted in the killing of British exchange student Meredith Kercher, promptly returned to Washington. The network also reported that Kercher's family might file a multi-million dollar lawsuit against Knox in her death.