Amanda Knox's Family Invited Her Ex Raffaele Sollecito To Seattle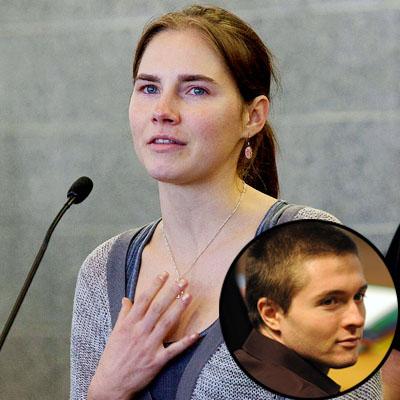 Amanda Knox's family has invited her ex-boyfriend Raffaele Sollecito -- who was also acquitted in the killing of British exchange student Meredith Kercher -- to join her in her hometown of Seattle, Washington.
Raffaele's father Francesco Sollecito, according to the U.K. Times, said that "at this time, we have nothing planned" as far as a reunion between the one-time couple.
Article continues below advertisement
"We didn't manage to speak to Amanda," Francesco told the paper. "Raffaele didn't manage even by telephone. After the court ruling, we went in different directions, but through my daughter I learned that Amanda's stepfather Chris Mellas invited us to Seattle."
Francesco compared his son -- just released from custody, after four years in an Italian prison -- to "a baby growing up that has to learn to get used to life."
Francesco added that he tried to speak with Kercher's family, but was thwarted by their lawyer.
"I realized it was too soon," Francesco told the paper. "I hope that when they have digested the ruling, I will be able to have a meeting with the family of poor Meredith so they can understand that Amanda and Raffaele had nothing to do with this horrible death."
Raffaele, when asked about Knox, told Italian news agency ANSA: "Amanda? Maybe I'll see her again, but now I only want to be with my family."
Article continues below advertisement
Knox was freed Monday and touched down at Seattle-Tacoma airport to a huge ovation Tuesday evening. While public opinion of the 24-year-old has been fairly positive in the American press, an Italian judge who was on the trial's appeals court, Claudio Pratillo Hellmann, undermined Knox's innocence on Italian TV, saying that her and Francesco's acquittals "resulted from the truth that was created in the trial."