Casey Anthony Probation Report: Unemployed, Not Used Illegal Drugs But Has Drunk Alcohol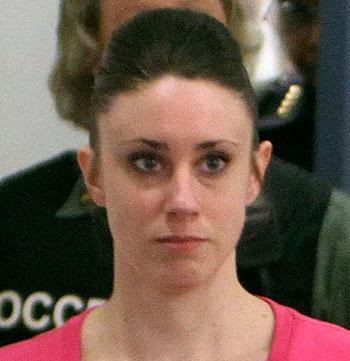 Casey Anthony has told her probation officer that she is unemployed, has no income whatsoever, hasn't used any illegal drugs but has consumed alcohol, although "not to excess."
According to a report released on Tuesday, Anthony reported to her probation officer at an undisclosed location on Monday, as she is required to do each month.
Anthony's probation order requires her to "work diligently at a lawful occupation" but Gretl Plessinger, a spokesperson for the Florida Department of Corrections said Casey's lack of employment isn't cause for a probation violation citation.
Article continues below advertisement
"Probation officers encourage offenders to explore their options as it relates to employment," Plessinger said in an email. "Employment status is reviewed monthly by probation officers."
Anthony also stated on her probation form that she has not attended any mental health or therapy programs since her release, which is in direct conflict to her attorney's claims.
In an interview last month, Jose Baez told Fox News' Geraldo At Large that his client was undergoing therapy and counseling.
MORE ON:
Celebrity Justice
After a shocking trial that gripped the nation, Casey was found not guilty in July of the murder of her two and a half year old daughter, Caylee. She was found guilty of lying to authorities though after having reported the little girl missing, prompting a huge manhunt.
Casey was set free following the verdict but has been ordered to fulfill one year's probation for a previous check fraud conviction. She is currently living at an undisclosed location in Florida.