Exclusive
Amanda Knox Is 'Exhausted, Ecstatic and Overwhelmed' To Be Home, Says Stepmom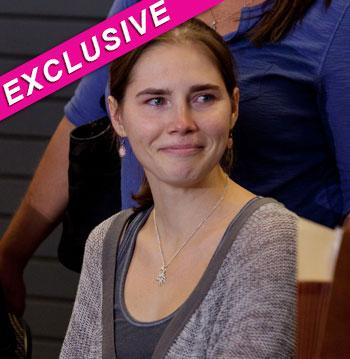 After four years in an Italian jail and a long flight back from Italy, Amanda Knox was just happy to be home on Wednesday, her step-mother Cassandra Knox revealed exclusively to RadarOnline.com.
"She's exhausted, ecstatic and overwhelmed. She has tons of emotions right now but she's extremely happy," Cassandra, who flew back from Italy with husband Curt, Amanda and other family members on Tuesday evening, told RadarOnline.com in an exclusive interview.
Article continues below advertisement
"Last night was about surrounding her with people who love her and now she is safe," said her step-mom. "We are going help her get back into the swing of things. She is a very strong girl and has a lot of people who love her and a great supports system."
As RadarOnline.com previously reported, Knox was struggling with stress during the final weeks of her incarceration.
"Amanda was nervous for the last 10 days and she couldn't eat or sleep," Knox's high school drama teacher John Lange told RadarOnline.com, in an exclusive interview on Tuesday.
Cassandra too was worried about Amanda's well-being lately and revealed they had all been suffering from the extreme pressure.
"The last week was very emotional and stressful and for us and I can only imagine how Amanda was feeling with it," she said. "All she needs is the time to settle back and know she is home and I am sure everything will come back to her."
After waking up on American soil for the first time since 2007 on Wednesday morning, 24-year-old Amanda is now just focusing on getting her life back to normal and enjoying the little pleasures we all take for granted.
Article continues below advertisement
"She just wanted to just be outdoors, lie in the grass and feel the rain on her face, and breath some fresh Seattle air, even though it's not that fresh here!" Cassandra laughed, adding that while she's not made it to a field yet, Amanda has definitely been rained on as there's been typical wet weather in her hometown recently.
With the world asking what exactly is Amanda going to do with her new-found freedom after her college career was abruptly put on hold, Cassandra said her step-daughter hasn't got anything set in stone yet.
"I am going to let her say what she wants to do with her life now, I don't want to put words in her mouth," she told RadarOnline.com.
"Although I don't think she has a lot of plans yet. She just wants to stay with family and friends who she hasn't seen for four years and catch up on the things she has been without," she explained.
"Amanda is a very smart girl and has a lot of plans and ideas and I have faith that whatever she does will be a success. All that matters right now is that that she knows she is home and is safe."
Article continues below advertisement
Neither Knox or her family have had time to celebrate yet, but Cassandra said she hopes there will be a lot of parties in the near future.
"I'm sure there will be many celebrations and I know a lot of people who haven't met her want to congratulate her," said her proud stepmom, who explained that while Amanda knew she had a lot of people rooting for her back home, she didn't realize quite how much support she had.
"She was overwhelmed at the airport when we landed, crying her eyes out and overcome with the emotions," said Cassandra, who said when the family drove back through their neighborhood they were all overcome with the outpouring of support.
"There were banners all over the houses and cars saying, 'Welcome home Amanda.'
"All of her supporters known and unknown to us have been amazing. They really kept us going through the worst of times."
Article continues below advertisement
Just like many of the millions of viewers around the world who were glued to the news on Monday when the verdict from the appeals court was heard, Cassandra admitted that her and Amanda's father, Curt, struggled to understand whether the Italian court had found her guilty or innocent.
"We couldn't understand what they were saying so we were looking for the people around us to see a reaction," she exclusively told RadarOnline.com.
"We knew certain words meant certain things but couldn't tell what the verdict was," she exclaimed, and looking at Amanda, who speaks fluent Italian, didn't help as she was crying so much!
Finally after a few seconds of confusion thinking, "'What is it? What is it?' we realised it was not guilty when the people in court and the lawyers started cheering," said Cassandra.
"It was amazing when we heard that she was free to go. It was an unbelievable feeling," she explained.
Article continues below advertisement
As RadarOnline.com previously reported, Amanda made a tearful speech at a press conference when she landed with her family on Tuesday evening, where her only acknowledgement to the four-year ordeal in an Italian prison was to tell the media conference she had been reminded "to speak in English, because I'm having problems with that."
Her 2007 murder conviction of her roommate, British student Meredith Kercher, was sensationally overturned by an Italian appeals court Monday night. Amanda was originally sentenced to 26 years in jail and was incarcerated for four years.