Exclusive
Amanda Knox Was Suffering From Depression Before Release, Reveals Friend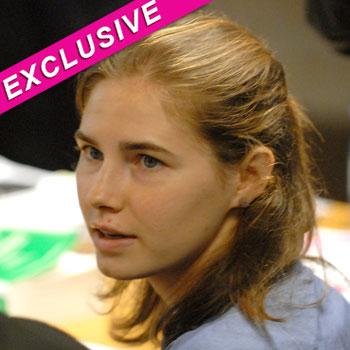 As joyful Amanda Knox heads home to Seattle from Italy, her friends reveal the trauma that she endured over recent weeks while awaiting the verdict of her appeal against a 2009 murder conviction.
The 24-year-old is due to land in her home city around 5 p.m. local time and there are countless anxious friends and family waiting for her, many of which have been increasingly worried about her emotional well-being during the closing stages of the trial.
Article continues below advertisement
"Amanda was nervous for the last 10 days and she couldn't eat or sleep," Knox's high school drama teacher John Lange told RadarOnline.com in an exclusive interview.
"None of us knew which way the appeal was going to go," he said, adding that her father, Curt Knox, had recently revealed the depth of his daughter's stress.
As RadarOnline.com previously reported, earlier on Tuesday Amanda switched planes at London's Heathrow Airport after leaving Rome to make her long journey home after spending four years in an Italian prison.
After ten hours of deliberations, the appeals jury on Monday reversed Amanda's conviction for the murder of her roommate, Meredith Kercher; the court also threw out the conviction of Knox's former boyfriend Raffaele Sollecito.
Knox's father Curt Knox and mother Edda Mellas, as well as other family members, are traveling with her back to Seattle.
The family is expected to hold a news conference at the airport upon their arrival in the U.S.
Article continues below advertisement
"It has been a tremendous relief for all of us to hear that she has been released," revealed Lange, who was Amanda's teacher at Seattle Prep and kept in touch with his former student during her incarceration.
"We have been writing back and forth over the years, but it's been seven or eight weeks since I last got a letter from her," he said.
"She was doing OK then, she felt as though the testimony and evidence was turning her way and she was enjoying a feeling of balance," Lange revealed, who is a member of the Seattle-based support group, Friends Of Amanda.
In recent weeks however, the strain was clearly getting to the former University of Washington college student, especially as lawyers lambasted her with increasingly cruel words.
The attorney for her former boss, Congolese bar owner Diya 'Patrick' Lumumba, who she initially implicated in the murder called Knox, a "liar" and a "satanic, diabolic she-devil" in the Perugia courtroom.
"We had heard enough of the prosecution in the past few weeks," said Lange. "In the first trial, a lot of what the prosecution did in terms of character assassination seemed to work but in the second case it seemed to be a lot more about the evidence," he explained.
Article continues below advertisement
Now that Amanda is finally heading home after being in Italy, the question remains of what the future holds for Amanda now that she is free?
"I have no idea if she will stay in Seattle or go back to school," Lange told RadarOnline.com, who remembers his former student as "very light spirited and fun. She was never moody or unhappy."
Before she headed off on her life-changing trip to Italy as an exchange student, Amanda's family threw her a big going away party at their Seattle home, revealed one of her neighbors: "They even had a rock band play."
So far, her home-coming has been a quieter affair.
"I don't think they are going to be coming back to the house, there's no activity there. I've not heard of any celebrations," Lange told RadarOnline.com, adding that he thought the family is going somewhere else to acclimatize before returning home.
Amanda's spokesperson, David Marriott, told RadarOnline.com on Tuesday: " I don't know if there are any celebrations planned.
Article continues below advertisement
"They are having a press briefing when they arrive at the airport about 30 minutes after landing. There is a big family contingent with her including her mother and her sister.
"I don't think she has had time to think much about what she is going to do now, she was focused on the appeal trial and has not thought about she is going to do afterwards.
RELATED STORIES: