Amanda Knox Expected To Land In Seattle At 5pm PDT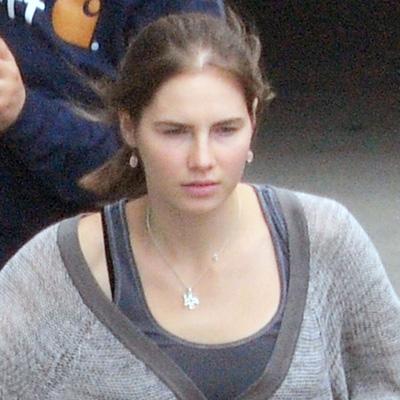 Amanda Knox is expected to land in her hometown of Seattle, Washington around 5pm PDT Tuesday, one day after an Italian appeals court threw out her conviction for the murder of her British roommate Meredith Kercher.
Earlier today, Knox, 24, switched planes at London's Heathrow Airport after leaving Rome to make her long journey home after spending four years in an Italian prison.
Her father Curt Knox and mother Edda Mellas, as well as other family members, are traveling with her back to Seattle.
Article continues below advertisement
The family is expected to hold a news conference at the airport upon their arrival in the U.S.
Amanda's spokesperson, David Marriott, told RadarOnline.com on Tuesday: " I don't know if there are any celebrations planned. I've never spoken to Amanda, but I talked ot her family last night and I emailed with her family this morning.
"They are having a press briefing when they arrive at the airport about 30 minutes after landing. There is a big family contingent with her including her mother and her sister.
"I don't think she has had time to think much about what she is going to do now, she was focused on the appeal trial and has not thought about she is going to do afterwards."
Amanda Knox: 'I Did Not Kill. I Did Not Rape'
Prior to leaving Italy, Amanda thanked those "who shared my suffering and helped me survive with hope," in a letter to the Italy-US Foundation, which seeks to promote ties between Italy and the United States and championed Knox's cause.
Article continues below advertisement
"Those who wrote, those who defended me, those who were close, those who prayed for me," Knox wrote. "I love you, Amanda."
As RadarOnline.com previously reported, after ten hours of deliberations, the appeals jury on Monday reversed her conviction for the murder of Kercher; the court also threw out the conviction of Knox's former boyfriend Raffaele Sollecito.
A third defendant, Rudy Guede, 24, was also convicted of Kercher's murder in a separate trial and was sentenced to 30 years in prison. His conviction was upheld on appeal, but his sentence was shortened to 16 years.
Prosecutors in Italy say that they plan to appeal the jury's decision, but legal experts say it's not likely Amanda would be extradited back to the country to face a retrial.
RELATED STORIES:
Amanda Knox On Way Back To United States