Amanda Knox Arrives In London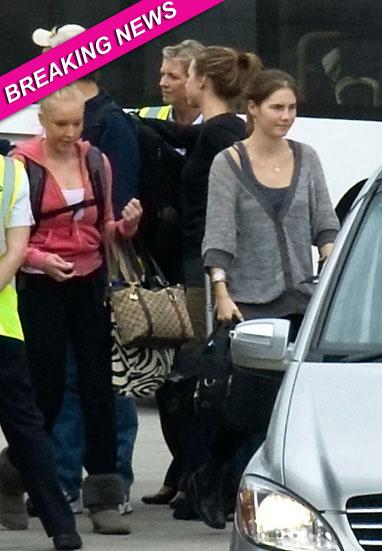 Amanda Knox arrived at London's Heathrow Airport on Tuesday to change planes as she continues her journey home after an Italian appeals court threw out her conviction for the murder of her British roommate Meredith Kercher.
Only hours earlier, Knox, 24, was seen smiling at Leonardo da Vinci airport in Rome, as she was escorted through the terminal.
Her father Kurt Knox and mother Edda Mellas, as well as other family members, are traveling with her on the long journey back to their hometown of Seattle, Washington.
Article continues below advertisement
She's expected to arrive home in Washington state later on Tuesday.
Prior to leaving Italy, Amanda thanked those "who shared my suffering and helped me survive with hope," in a letter to the Italy-US Foundation, which seeks to promote ties between Italy and the United States and championed Knox's cause.
"Those who wrote, those who defended me, those who were close, those who prayed for me," Knox wrote. "I love you, Amanda."
As RadarOnline.com previously reported, after ten hours of deliberations, the appeals jury on Monday reserved her conviction for the murder of Kercher; the court also threw out the conviction of Knox's former boyfriend Raffaele Sollecito.
A third defendant, Rudy Guede, 24, was also convicted of Kercher's murder in a separate trial and was sentenced to 30 years in prison. His conviction was upheld on appeal, but his sentence was shortened to 16 years.