Exclusive
'We're Trying To Get Our Lives Back To Normal,' Says Amanda Knox's Dad, On Anniversary Of Meredith Kercher's Murder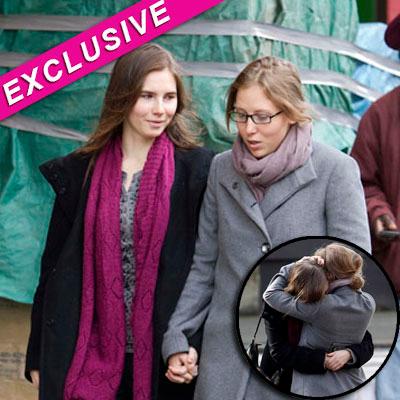 On the fourth anniversary of Meredith Kercher's death, Amanda Knox is trying to put her life back together and move on, her father, Curt Knox, exclusively revealed to RadarOnline.com.
"We're focused on getting our lives back into some semblance of normal," he told RadarOnline.com in an exclusive interview.
Amanda spent the landmark day with a close friend in Seattle, where the two girls were spotted hugging and hanging out.
Article continues below advertisement
Dressed in a warm coat and scarf, Knox looked emotional and tired as she engaged in deep conversation with her friend on the date that must be embedded deeply into her memory after her exchange student housemate was brutally killed on November 1, 2007.
As RadarOnline.com previously reported, Knox, her Italian boyfriend Raffaele Sollecito, and another man were all convicted in 2009 in the murder of Kercher in Peruga, Italy.
Her family and defense team launched a passionate appeals case, and the verdicts for both Amanda and Rafaelle were overturned on October 3.
While her father said the family is declining to talk about how Amanda is doing, he was keen to discuss the case, which shockingly may not yet be over.
"Whether it is resolved or not is in the prosecution's hands," Curt told RadarOnline.com.
"The Motivation report will be out in the first part of January, that is the document that the judge and jury release explaining their reasoning behind their decision," he explained.
Article continues below advertisement
"We're just waiting to see what the prosecution do with the rest of the case and if they take it further.
"Both the defense and the prosecution have the opportunity to appeal the appellate judge's decision," said Mr. Knox.
According to a report in the Telegraph.co.uk, Giuliano Mignini, the chief prosecutor in the case, may plan to attempt to have Amanda's 26-year sentence reinstated.
Prosecutors have 45 days to file their appeal after the Motivation is released at the beginning of 2012, following which the Supreme Court would only look at the legal merits of how the case was conducted, and could decide in a day.
In the most extreme circumstances, it could mean Raffaele Sollecito would be sent back to prison and attempts made to extradite Amanda from the U.S., reported the Telegraph.
Despite the legal precariousness, Curt said the family has no plans to return to Italy when the Motivation is released.
"We're more focused on getting our lives back into some semblance of normal," he told RadarOnline.com.
"It was so clear to us and so clear to the jury that Amanda and Raffaele had nothing to do with Meredith's murder.
Article continues below advertisement
"In Italian law, there are two types of acquittal," he explained, "There's 'not enough evidence to commit' and '100 percent that you had nothing to do with this crime." Amanda and her former boyfriend Sollecito were acquitted on the basis of the latter.
"We are viewing it as a done deal but the decision is in the prosecution's hands as to what they decide they want to do with it," concluded Knox's father.
As for Sollecito's family, they have said that an interview Italian magazine OGGI claimed was carried out with their son is false, reported ABCNews.com.
"Raffaele has not spoken to any reporters since being released, and he will not anytime soon," Raffaele Sollecito's father said from his home in Bari, Italy.
Francesco Sollecito said that he spoke to OGGI magazine, but only about details of the case and not about Amanda and his son speaking to each other daily.
Article continues below advertisement
"I did not talk about any communications between Amanda and my son. I have no idea if they speak every day. I don't talk to Raffaele about those details, but he has a computer in his room so maybe they do communicate. But I do not know the extent of it," he said.
While no plans for a visit between Amanda and Raffaele have been announced, Curt told RadarOnline.com: "We would absolutely welcome him if he wanted to come."