Amanda Knox's Ex-Boyfriend Wants To Reunite With Her, After Surviving 'A Hellish Whirl'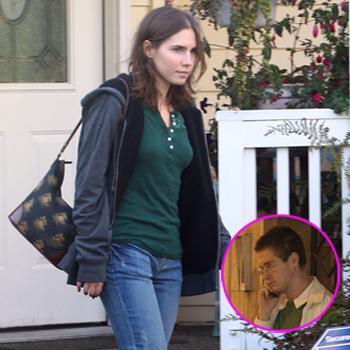 After four years of imprisonment followed by just a month of freedom, Amanda Knox's ex-boyfriend can't wait to be reunited with her, RadarOnline.com has learned.
Raffaele Sollecito and Knox were both cleared of the murder of Knox's roommate, Meredith Kercher, and now he's ready to see his former girlfriend again to talk about their terrible shared experience.
In an interview out on Wednesday, Sollecito opened up to Italian magazine Oggi and told how he plans to travel to Seattle before Christmas because he wants to "look her in the eyes" and chat about the "hellish whirl" that had "nearly ruined our lives," reported the Telegraph.
Article continues below advertisement
As RadarOnline.com previously reported, the couple's 2009 murder convictions were overturned on October 3 by an Italian court.
American exchange student Knox, 24, was finally free to return to the U.S. and she left Italy within hours of the verdict and not seen her ex since.
Italian computer studies graduate Sollecito first met Knox at a classical music concert in Perugia, Umbria, in Oct 2007, just a week before Kercher was found dead in her bedroom with her throat slit and multiple knife wounds.
Now the 27-year-old from Bari in the south of Italy is excited to see her again and finally visit Knox's hometown after an open invitation from her family.
"Certainly I will go and see Amanda in Seattle. She's invited me and I accepted with joy," he told Oggi. "I could go at any moment. I want to see her again, to talk to her, to look her in the eyes."
Despite the nine-hour time difference and a distance of almost 6,000 miles between them, Sollecito said he and "Foxy Knoxy" are constantly in touch.
Article continues below advertisement
"We telephone and write to each other every day, we need each other both to try to understand what happened and to look ahead, towards a future that seemed broken forever but which we can now rebuild.
"We have so many things to say to each other after spending four years in a hellish whirl which crushed us and caused us indescribable suffering and nearly ruined our lives," he said.
Like Amanda, he has been laying low and spending quality time with the family that he was estranged from for so long since they were acquitted by a Perugia appeals court.