Amanda Knox Ex-Boyfriend Reveals Their Final Moments Together Following Sensational Murder Acquittal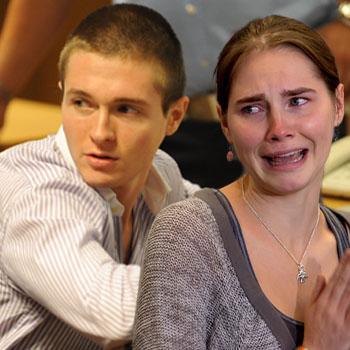 Article continues below advertisement
He writes that he remembers looking at the police after the verdict was read, hoping to see them appear defeated, but they wouldn't look at him, according to the Associate Press.
Amanda was sobbing, and he said they had a "private moment in the basement of the courthouse, waiting to be taken back to prison one last time."
He said that his then-girlfriend, who had been dubbed "Foxy Knoxy" by the press, "squeezed his hand and said she couldn't wait to see her home and friends."
Sollecito, an Italian native, describes his first night in prison where he felt "great waves of indignation and a nagging sense of guilt" despite the fact that he knew he was innocent.
He says that since they had smoked marijuana and were high around the time of Meredith's murder, he was angry at himself for having a foggy memory of the night, something the Italian police jumped on as a sign of the couple's guilt.
Article continues below advertisement
As RadarOnline.com previously reported, Meredith was found half naked with her throat slit in the apartment she shared with Amanda in November 2007.
In his book, Sollecito maintains that Rudy Guede, a drug dealer and petty thief was the sole murderer and that the killing occurred after a robbery gone wrong. Guede was separately convicted of the murder and is currently serving a 16-year sentence.
Amanda and Raffaele were originally found guilty of Meredith's death; the court claiming the murder was the result of a drug-fueled sexual assault. That sentence was overturned due to lack of evidence and they were released from prison last year, after four years of incarceration.