Drifter Testifies: Amanda Knox DID Murder British Exchange Student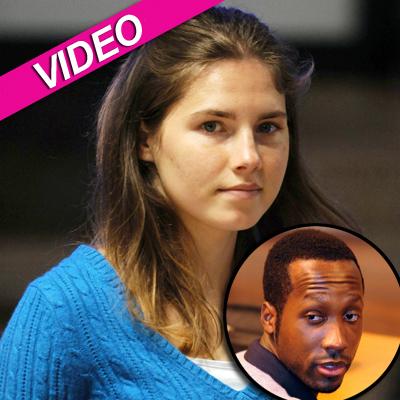 By Neil Woulfe - RadarOnline.com News Director
American exchange student Amanda Knox suffered a setback Monday at her appeal hearing related to her 2009 murder conviction in Italy.
Knox, 23, and her then-boyfriend Raffaele Sollecito, 27, were convicted of killing their British roommate Meredith Kercher back in 2007. She was semi-naked and her throat had been cut.
A third person -- a drifter by the name of Rudy Guede -- was also convicted of the crime and was sentenced to 16-years behind bars; Knox and Sollecito were sentenced to 26 and 25 years in prison in 2009.
Article continues below advertisement
At Monday's appeal hearing, Guede was called as a witness to corroborate the story of a fellow convict who told the court earlier this month that Guede had said Knox and Sollecito were NOT involved.
But on the stand, Guede did not back (convict) Mario Alessi's version of events. Furthermore, he said he did believe that Knox and Sollecito were in fact the killers, confirming his previous accusations.
Knox said she was "shocked and anguished" at the testimony by Guede. Moments after Guede left the courtroom, Knox suddenly stood up and said "he knows we weren't there" and that she doesn't know what happened the night of the murder.
While Guede has admitted to sexually assaulting Kercher in her home and to being in the house in Perugia, Italy when she was killed, he denies being involved in her death.
Article continues below advertisement
Knox's mother, Edda Mellas, a schoolteacher from Seattle ,Washington, attended Monday's hearing with her husband Chris Mellas and said that her daughter was "anxious" prior to the hearing.
"It's horrible for her to go through this, but I think she's glad things are moving along. She feels things are going well," she said.
She also said she cannot understand why Guede might spend only seven years behind bars, if he is released early for good conduct, while her daughter could serve 26 years.
Knox and Sollecito were convicted in large part because of traces of Knox's DNA found on the knife believed to have killed Kercher; meanwhile, Sollecito's DNA was found on a bra clasp. For the appeal, fresh DNA tests were ordered on both items.
Independent experts have been reviewing the DNA evidence and are scheduled to present their findings in the court by Thursday.
Said Knox's mother: "There's no evidence of her in the room.
"It sounds like the independent experts are professionals, and if that's the case, it's all going to come back positive for her," she added.