Amanda Knox's Ex Boyfriend Spills All On Their Relationship, Murder Conviction & Time Behind Bars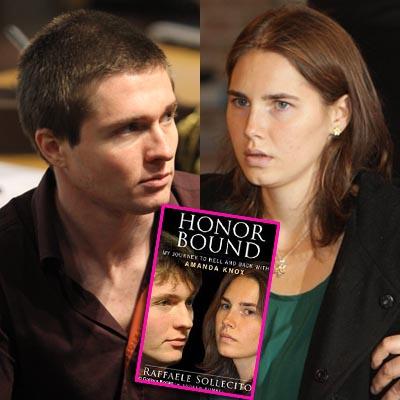 Article continues below advertisement
The romance, which began when the couple met at a classical music concert in Perugia, Italy, carried on hot and heavy for a week until Kercher was found half naked with her throat slit in an apartment she shared with Knox in November of 2007.
The couple immediately fell under suspicion following their inappropriate behavior. They were photographed kissing and cuddling in the street as police investigated the murder. They had no alibis and authorities described Sollecito's behavior as peculiar.
Sollecito admits, in the book, that their actions following the murder were odd and that besides themselves, they had no real alibi, but vehemently defends their innocence, claiming that he and Knox had been smoking pot earlier in the night and were asleep at the time of the crime.
As RadarOnline.com previously reported, both Knox and Sollecito were originally found guilty of Kercher's death; the court claiming the murder was the result of a drug-fueled sexual assault. That sentence, however, was overturned due to lack of evidence and Knox and Sollecito were released last year, after four years of incarceration.
MORE ON:
Raffaele Sollecito
Article continues below advertisement
In his book, Sollecito maintains that Rudy Guede, a drug dealer and petty thief was the sole murderer and that the killing occurred after a robbery gone wrong. Guede was separately convicted of the murder and is currently serving a 16-year sentence.
Knox and Sollecito have both since moved on - romantically - with Amanda dating Seattle native, James Terrano and Raffaele dating Italian born beauty, Annie Achille.