Trying Too Hard? Khloe Kardashian Sends 3 AM Messages About Kardashian Family As Simpson Paternity Scandal Explodes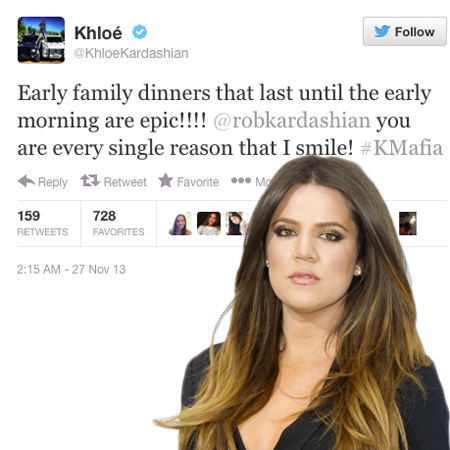 Khloe Kardashian has been known to freak out in the middle of the night over troubles in her life so when she took to her twitter account at 3 in the morning flags went up about what was going on.
Lamar Odom's estranged wife wrote two very nice notes about her family evening, except she was the only one in the over-sharing bunch to say they were hanging out.
"Early family dinners that last until the early morning are epic!!!! @robkardashian you are every single reason that I smile! #KMafia," Lamar's estranged wife sent at 3:15 AM California time.
Article continues below advertisement
She followed that up with a quick note, writing: "#LaFamilia.... Kasa De Kardashian," just one minute later at 3:16AM.
Khloe's middle of the night messages come on the heels of the bombshell report that O.J. Simpson's manager said that the jail-bird former football star could be her real father.
The truth, "is going to come out sooner or later," Norman Pardo told In Touch. And he believes that the real story is that Simpson and Khloe's mom, Kris Jenner, conceived the youngest Kardashian sister during a drunken hookup.
"Whenever I bring it up, he giggles," Pardo said about Simpson being Khloe's biological father.
Her younger brother Rob Kardashian was silent on Twitter, as were her sisters Kim and Kourtney Kardashian.
Kris shared a picture of a roaring fireplace, but no one mentioned having a family night with Khloe.
Do you think this is a desperate attempt by Khloe to cover up the O.J. Simpson paternity story? Tell us in comments.