Lamar Odom Demanding $10M To Divorce Khloe Kardashian — Plus He Wants The Engagement Ring Back: Report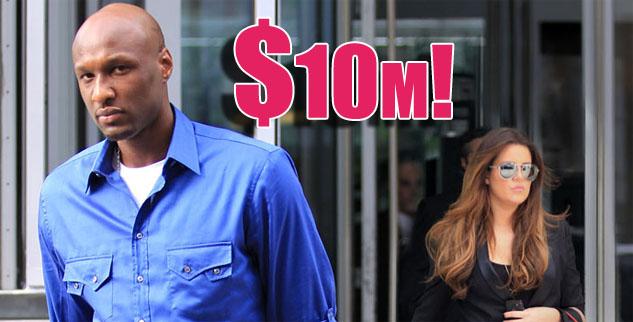 If Khloe Kardashian wants out of her marriage with Lamar Odom, it's going to cost the reality TV star a whopping $10 million payout, a new report states.
According to the National Enquirer, Odom is taking a page straight out of Kris Humphries' book, also demanding Kardashian give him back the $875,000 engagement ring as part of their divorce settlement.
After Kris Jenner had Khloe hammer out a divorce deal with their attorneys, Odom reportedly laid out his conditions.
Article continues below advertisement
"Kris and Khloe are very worried about Lamar. He's a loose cannon, and he has a lot of dirt on the family and nothing to lose," an insider told the Enquirer.
"He knows all about their extreme surgery procedures — when, how often and how much — and the pressure put on the younger girls to follow suit."
The source also claims Odom could tarnish Khloe's career by exposing a sex tape they made, but Jenner is trying to tie up loose ends with a confidentiality agreement.
"Lamar is also prepared to destroy Khloe's reputation by discussing their sex tape, and how she targeted him and tore his family apart," the source told the magazine.
"Kris is insisting on a confidentiality agreement to ensure Lamar can never discuss his life with the Kardashians either in print or verbally.
They Really Did Say It! 50 Outrageous Kardashian Quotes
"He's not signing anything until they cough up the dough."