Exclusive
Khloe Kardashian Marriage Is Over As Lamar Odom Continues To Party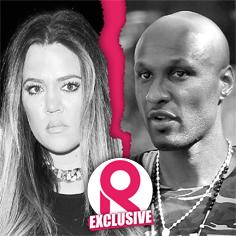 Article continues below advertisement
"Against her better judgement, Khloe believed Lamar and thought he could stay clean. Lamar was spotted at Beacher's Madhouse Halloween party, and he was wasted," a source told Radar.
"They had mutual friends at the party, and several people told Khloe he was wasted. Lamar isn't on a path to sobriety, and Khloe was living in a fantasy world thinking he could. The marriage is over. Even if Lamar finally decides to go to rehab, Khloe has had enough."
The Keeping Up with the Kardashians star told her Twitter followers after news broke this week that Odom had been seen visibly intoxicated at a nightclub, "Know you can only trust yourself. I control my destiny."
And after Odom was quoted saying he and Kardashian were doing "great," she wrote, "Scary when people believe their own lies."
Although Kardashian and Odom were spotted together at Kanye West's Los Angeles concert, they have not moved back in together and reportedly haven't even seen each other since that encounter a week ago.
Sources tell Radar, "Khloe and Lamar still talk on the phone every day, but it's more like a brother-sister relationship. She cares about what happens to him. But she now recognizes she is contributing to the chaos in her life by continuing to engage Lamar on a daily basis."