Exclusive
Khloe Kardashian Blames Lamar Odom's Drug 'Disease' For Crumbling Marriage; He Vows To 'Voluntarily' Submit To Sobriety Tests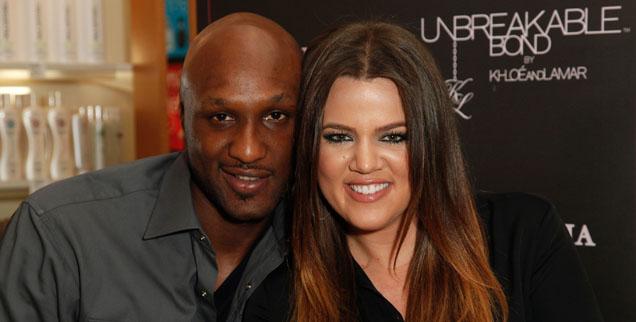 Article continues below advertisement
The couple hasn't formally gotten back together, but "are on a path that will likely end up in a reconciliation. Lamar has volunteered to undergo random drug tests anytime that Khloe requests. The drastic maneuver impressed Khloe, but she is still is very concerned that Lamar has refused to go to rehab," an insider exclusively told RadarOnline.com.
"Lamar has also stopped hanging out with his shady drug friends, and has cut off all contact with them. There was a time when Khloe would call Lamar and he wouldn't call her back for hours, or even days, as he would disappear on drug binges."
Earlier this week the couple was spotted together at Kanye West's concert at Staples Center is Los Angeles.
"Now, whenever Khloe calls him, Lamar almost always answers the phone, and if he doesn't, he calls her back right away," the source said.
"Lamar is doing everything possible to try and get his marriage back on track."
Until West's concert on Monday, the couple hadn't been photographed together in months, but the insider tells RadarOnline.com the two have been going on "secret dates including going to the movies and out to low key dinners in the Valley. They have been going to places that they know they won't be spotted by paps.
Article continues below advertisement
"Khloe is often dropped off by her assistant because they are truly trying to work on their marriage out of the spotlight. Lamar has spent the night with Khloe in their Tarzana mansion, but he hasn't moved back in, yet," the source added.
It's a dramatic turn of events in the wake of the cheating and drug abuse allegations leveled at Odom, but friends of the couple insist, "Khloe was never just going to give up on Lamar.
"She knows this is a disease, and Lamar wouldn't have cheated on her had it not been for his addiction. No pun intended, but the ball was in Lamar's court, and he has stepped up and is trying to do the right thing."