Exclusive
Khloe Kardashian Got Tested For STDs After Learning Lamar Odom Cheated On Her With 5 Women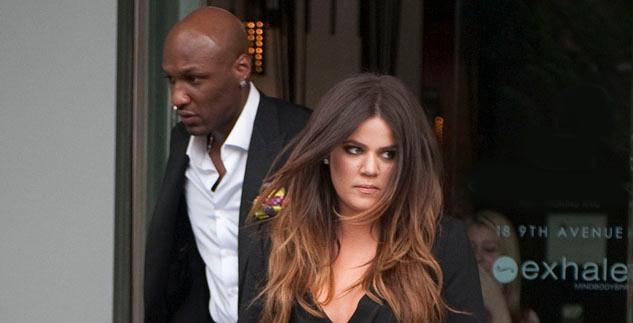 Khloe Kardashian was tested for sexually transmitted diseases several months ago after learning that husband Lamar Odom had cheated on her with five women, RadarOnline.com is exclusively reporting.
The reality starlet "was physically sick to her stomach when Lamar admitted that not only had he cheated on her, but didn't use protection 100 percent of the time," a source told RadarOnline.com exclusively. "Lamar refused to admit to how many women it was, but Khloe knew it was at least five different women in the past year.
Article continues below advertisement
"Khloe knew she had to go to the doctor, and was tested for a full range of sexually transmitted diseases. She is healthy, thankfully, but never thought this would happen to her. It's bad enough that Lamar betrayed their marriage vows, but to place her health in jeopardy is just disgusting."
As we previously reported, Khloe had Lamar tailed by a private investigator who uncovered evidence that he had cheated on his wife with up to five mistresses.
Only two of those women, Polina Polonsky and Jennifer Richardson, have been named publicly to date.
Worryingly for Khloe, love rat Odom's harem only dates back a year -- around the time Khloe, 29, had first become mistrustful of her husband. The E! reality star had Odom, the ex-Los Angeles Clippers and Lakers sixth man, followed because of an infidelity clause in the couple's prenuptial agreement.
"Khloe has not only photographic proof that Lamar cheated on her with at least five different women, but has copies of text messages between Lamar and the other women," the insider revealed. "She is a very smart woman and knew she had to get the proof because of the infidelity clause in their prenup."
As a result, drug-troubled Odom could be forced to pay Khloe, the youngest of the three Kardashian daughters, a "very large lump sum of cash, or a very hefty spousal support" if the couple does end up divorcing, the source told us.
During the course of getting her test results, "Khloe recognized that there was no way she could have a baby with Lamar at this point in their marriage," the family insider told us. "She can't trust him, and refuses to bring an innocent life into the world under these circumstances."