Paparazzo Sues Lamar Odom Over Violent Altercation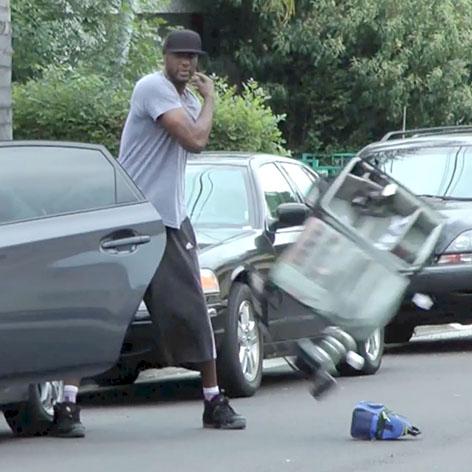 Lamar Odom has been sued by a paparazzo over a violent altercation in July in which the drug-troubled NBA star took the man's camera equipment out of his car and threw it onto the road.
Stefan Saad, the photographer, had been questioning Odom, 33, about allegations he had cheated on Khloe Kardashian with his reported mistress Jennfier Richardson.
According to the lawsuit filed in the Los Angeles Superior Court, $15,000 worth of equipment was damaged. He is now seeking over $565,000 in damages.
Article continues below advertisement
Saad is suing Odom for assault, conversion and trespass of property.
In a dig at Odom, Saad also said, in the documents, that "the Kardashians clan has apparently come to believe that it is above the law, and has some exceptional privilege to disregard the rights of others."
He said Odom's estranged wife, Khloe, 29, had defamed him on Twitter by accusing him of breaking into "our gated area & violated our private property," and "F**K the papaz!!! You f**king losers!!! But shout out to my hubby for posing with the fans! I love my Lam!"
"These posts were untrue and were intended to intimidate Mr. Saad and subject him to obloquy," the lawsuit said.
"Mr. Saad has never trespassed onto defendant's property, and has not engaged in any hit & run. These posts were clearly an attempt by Ms. Kardashian to blame the victim and rationalize her husband's behavior through lies."