Exclusive
Khloe Kardashian Had Private Eye Tail Love Rat Husband Lamar Odom -- Uncovered Evidence Of 5 Mistresses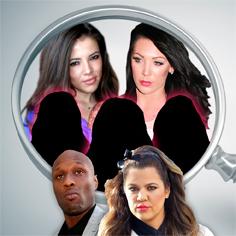 A suspecting Khloe Kardashian had her philandering husband Lamar Odom tailed by a private investigator who uncovered evidence that he had cheated on his wife with up to FIVE mistresses, RadarOnline.com has been told.
Only two of those women -- Polina Polonsky and Jennifer Richardson -- have been named publicly to date.
Worryingly for Khloe, love rat Odom's harem only dates back 12 months -- around the time Khloe, 29, had first become mistrustful of her husband.
Article continues below advertisement
The E! reality star had Odom, the ex-Los Angeles Clippers and Lakers sixth man, followed because of an infidelity clause in the couple's prenuptial agreement, a source told RadarOnline.com.
"Khloe has not only photographic proof that Lamar cheated on her with at least five different women, but has copies of text messages between Lamar and the other women," the insider revealed.
"She is a very smart woman and knew she had to get the proof because of the infidelity clause in their prenup."
Article continues below advertisement
Both sides of the Hollywood power couple have bank accounts: Khloe is worth approximately $18 million, while Odom has socked away some $56 million during his 14-year career on the hardwood.
Among the goodies the twosome share include a $500,000 Rolls Royce, a $140,000 Porsche Panamer and Khloe's $850,000 engagement ring, which would all be divided should the day come.
Kardashian would keep their Tarzana, Calif., mansion in the event of a split.
Odom, 33, has been living at his apartment in Downtown Los Angeles over the past few weeks, having rejected three separate interventions from those close to him who desperately want him to seek help for his addictions.