Exclusive
Drug Troubled Lamar Odom REFUSED Dramatic Third Intervention Before Going Missing; Pals Fear He's Now 'Trying To Smoke Himself To Death'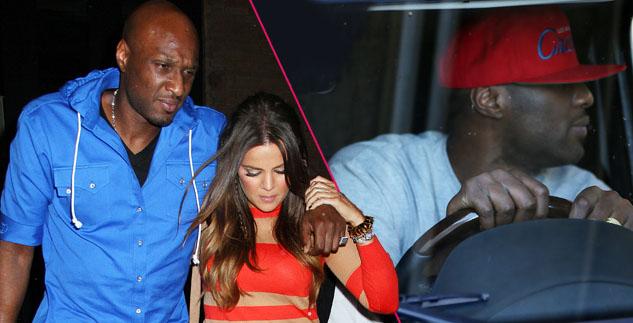 "He's headed for destruction." That's what Lamar Odom's friends are saying about their once successful NBA star friend, who is now embroiled in a downward spiral where his alleged drug use has destroyed his career and his marriage to Khloe Kardashian.
So concerned about his well-being were Odom's childhood friends from Queens, New York, that a handful of them flew out to Los Angeles in an effort to stage an intervention with the former Clippers forward, RadarOnline.com is exclusively reporting.
Article continues below advertisement
"A few weeks ago his friends from the projects in Queens flew out to LA and banged on Lamar's door trying to have an intervention with him," a source close to the situation told RadarOnline.com.
"They wanted to take him home to New York and get him clean but Lamar wouldn't open the door initially, telling them he 'didn't give a f**k what the world thinks" and said they 'don't know the pressure he's under.'"
But the friends finally got Odom to open his door, and what they found was shocking.
Article continues below advertisement
As RadarOnline.com exclusively reported last month, Odom rejected an intervention attempt by former teammates from both the Los Angeles Clippers and the Los Angeles Lakers -- who had a dramatic three-hour talk with him that ended when he "abruptly bolted from the hotel and left the premises."
Addicted to Oxycontin and Ambien, Odom briefly entered a rehab clinic last August under pressure from the Kardashians, but he left after three weeks and would later fall deep into the dark world of cocaine use.
Article continues below advertisement
"Lamar feels invincible because he's rich and famous, but he also seems scared that his destiny is to be a drug addict like his father," the source told RadarOnline.com.
"He's really struggling right now…really torn."
In an exclusive video interview with Odom's self-professed New York drug dealer, the man told RadarOnline.com that in the three years he's known him Odom has spent an estimated $50,000 on the illegal white powder — even smoking it before his February 10 game against the Knicks.
The dealer claims Odom partied with high-end call girls when his wife Khloe wasn't around, and gave this message to his one-time client: "Cut the sh*t. The party's over."
"It's bad," the source concluded.
"And his friends fear he's suicidal and trying to smoke himself to death!"