Exclusive
Where's Lamar? Odom Keeping Wife Khloe And Entire Kardashian Clan In The Dark — She's Furious!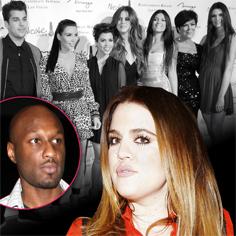 Khloe Kardashian is furious and hurt that husband Lamar Odom is keeping her in the dark about where he is, and she has been frozen out by the NBA star's camp, RadarOnline.com is exclusively reporting.
The reality starlet is obviously "relieved that Lamar has finally gone to rehab, if that's where he really is, but she is pissed off she doesn't even know his location. She has stood by him for the past two years as he descended into a nasty addiction of Oxycontin and cocaine," the source revealed.
Article continues below advertisement
It shouldn't come as a shocker though, because as RadarOnline.com previously reported, Lamar believes the Kardashian clan has been leaking negative stories to the press about his drug addiction.
Lamar "absolutely believes Khloe's family has been leaking stories to the tabloid press about his drug use, and his trip to rehab last year," the insider said.
"It shouldn't come as a surprise to Khloe that he has chosen to not disclose to her where he has chosen to seek treatment."
Article continues below advertisement
Neither Khloe, or any of her relatives, bailed her husband out of jail after he was arrested for a DUI last week and it was it was actually his drug dealer who answered the call to spring the troubled basketball player out of the custody of the LAPD's Van Nuys jail facility.
Lamar's dealer — a different person than the one than opened up to RadarOnline.com this week about the hoopster's vices — "posted $15,000 bail to get him out of jail last Friday morning, after being arrested for a DUI," a source told RadarOnline.com. "The sad thing is that Lamar didn't call Khloe to bail him out."