Exclusive
The Carpet Confirms It! Khloe Kardashian Accidentally Reveals Lamar Odom Has Moved Into Hotel In Wake Of Cheating Scandal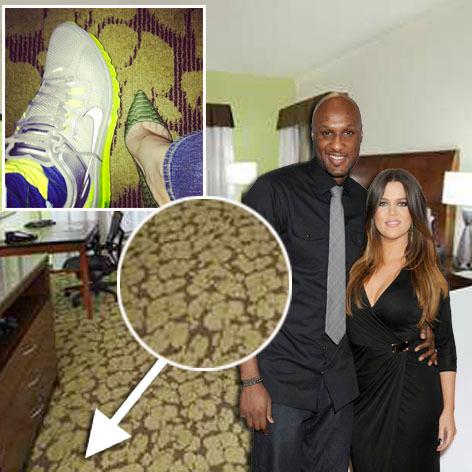 Khloe Kardashian has accidentally revealed she and Lamar Odom are living separate lives -- after posting a snap of her designer heel alongside her love rat husband's tennis shoe on social media site Instagram.
"They look so small compared to his," the E! star breathlessly wrote in reference to her green Christian Louboutin stiletto next to Odom's fluorescent Nike runner.
But today, RadarOnline.com can reveal there's tellingly more to this seemingly unguarded moment than meets the eye and it's bound to cause a huge ripple of embarrassment for the embattled Kardashian family.
Article continues below advertisement
The carpet in the background of the image is an exact match to what is featured in the guest rooms at The Garden Inn Hilton in Calabasas, Calif., where it was suggested last week that Odom had moved, from the couple's marital home in Encino.
Khloe, 29, was also photographed arriving at that hotel on Thursday, however Odom was not sighted.
What's more, the Kardashians have been defiant in the wake of reports that the Los Angeles Clippers forward had strayed on Khloe with two women.
Momager Kris Jenner even boldly declared everything was fine and suggested, "Khloe and Lamar are absolutely not getting divorced."
But Khloe's tell-tale slip up -- posted hours after her 20-minute hotel visit -- confirms our July 11 exclusive report that the devastated reality star has exiled her husband.
"Khloe did kick Lamar out of the house," a source close to the family told RadarOnline.com.
"He had been staying at the Hilton, but once photographers found out he was staying there, he moved to another location. Lamar isn't living under the same roof with Khloe right now. She knows he has been cheating on her and is absolutely devastated."
Article continues below advertisement
As we previously reported, Odom has been accused of sleeping with at least two women over the last year: Most recently, California-based criminal defense attorney Paula Polonsky claimed she had a brief affair beginning on June 2, the day of Kim Kardashian's baby shower.
Worryingly for Odom and Kardashian, Polonsky passed a lie detector test.
"It's one thing for Khloe to want to handle this in a private manner, but she shouldn't be attempting to lie to her fans by pretending everything in her marriage is fine, when clearly it isn't.
Joked our source, "Not everyone wants to drink the Kardashian Kool Aid!"