Unmasked: First Look At The Lawyer Who Stole Love Rat Lamar Odom's Heart — And Crippled Khloe Kardashian's Marriage!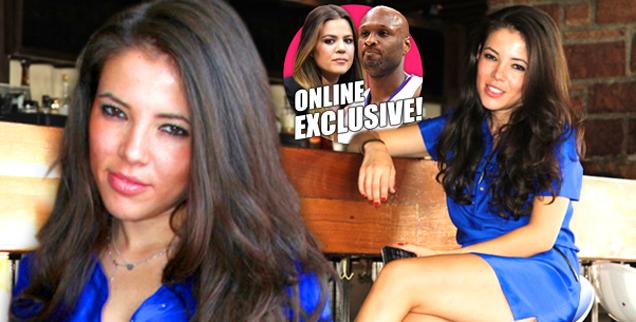 Article continues below advertisement
She told Star magazine she thought the celebrity marriage was finished when she became involved with the lanky rebounder, as he was staying at Los Angeles's Roosevelt Hotel around the time they hooked up around June 9.
"I was under the impression that he had left Khloe … he acted completely available and we definitely had a mutual attraction," the comely counselor told the magazine. "After we had sex, Lamar stayed the night with me; the next day we went back to the Roosevelt.
"I stayed there with him for the next couple of nights."
She told the magazine she had a tense run-in with Khloe, when the former hostess of The X Factor showed up to the room she was sharing with Lamar at the Vagabond Inn on July 13.
"I told her to leave, but she refused. I called the front desk and asked them to call the police because I was so scared, but no one ever came," she said. "While Khloe was screaming outside the door, Lamar was calling people to come and get her. She was out of control.
Article continues below advertisement
"The whole scene was so frightening -- and I couldn't understand why we were hiding, because he made it clear that he didn't want to be with her!"
Polina said that an enraged Khloe has since turned up the heat on the feud in a very personal way.
"She's investigated my loved ones, and she personally tried to attack me," Polina said. "I can't even go home, because I'm scared that something bad will happen.
"I want my story to be made public."
Khloe, who was recently spotted taking a flight out of Los Angeles, "has been crying hysterically" while dealing with the scandal, a family insider told Radar.
Her mother Kris Jenner "has been trying to calm her down, but Khloe seems to know in her heart that Lamar has been indeed cheating on her. Lamar is Khloe's entire world, and she can't understand why he would cheat on her.
"It's really, really sad, because she loves him so much."
Stay with RadarOnline.com for all the latest news on this story.