Exclusive
Inside Khloe Kardashian & Lamar Odom's Crumbling Marriage: The Couple Tried Counseling 'For Months' -- Before His Serial Affairs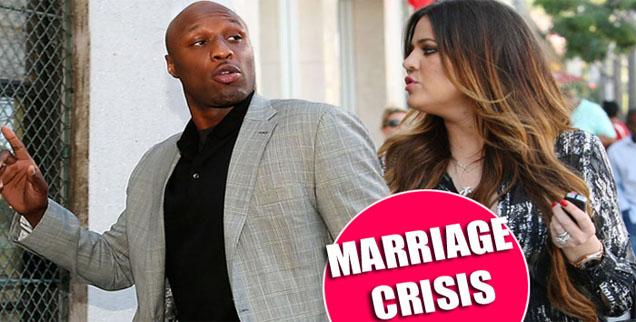 Khloe Kardashian has been devastated by the recent discovery of yet another of Lamar Odom's mistresses, "crying hysterically" and having marathon phone sessions with her momager, Kris Jenner, an insider claims. But RadarOnline.com has learned their marriage was in crisis long before Polina Polonsky came forward to reveal her affair with Lamar in Star magazine this week. A Kardashian family insider tells RadarOnline.com exclusively that Khloe and Lamar had been in marriage counseling for months, but the NBA star abruptly stopped participating in early June, around the time he met Polina.
Article continues below advertisement
According to the source, Khloe and Lamar's decision to pursue counseling initially had nothing to do with rumors of Lamar's cheating. Instead, the source claims, Khloe wanted to address Lamar's career issues back in 2011.
When Lamar was traded from the L.A. Lakers to the Dallas Mavericks in 2011, Khloe "felt a significant change in Lamar, and with their relationship," the source says. "Lamar was miserable in Dallas, and was in a funk for a very long time."
When Lamar was released from the Mavericks and the couple moved back to Los Angeles, the source claims, Khloe and Lamar began to see a marriage counselor.
"The counselor would come to their mansion for privacy," the source explains. "They had been in treatment on and off for the past year."
But when cheating allegations began to surface early this summer, "Lamar refused to continue to see the therapist," the source tells RadarOnline.com. "He pulled the plug on it and said it was only causing more stress in the marriage."
Article continues below advertisement
In actuality, according to Star magazine's report this week, Lamar struck up an affair with Polina around that same time, after moving out of the home he and Khloe shared into the Roosevelt Hotel. Before that, according to Star's previous report, he was engaged in a year-long affair with striking brunette Jennifer Richardson.
Now, despite the mounting evidence that Lamar has repeatedly been unfaithful and despite the fact that counseling didn't work the first time, the source says Khloe wants to give it another try.
"She wants to get back into marriage counseling with him," the insider reveals. "Khloe loves Lamar and will fight to save her marriage. She has absolutely no plans to divorce him."