Exclusive
Khloe Kardashian Has Been 'Crying Hysterically' In Wake Of New Lamar Odom Cheating Scandal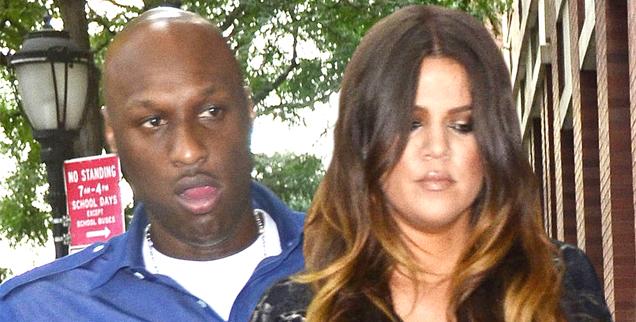 It's been a very rough morning for Khloe Kardashian in the wake of yet another woman claiming an affair with the reality star's basketball star hubby, Lamar Odom.
Khloe has been "crying hysterically," and has been on the phone with momager, Kris Jenner, who has been trying to calm her down, RadarOnline.com is exclusively reporting.
Khloe called "Kris very, very early on Wednesday morning after reading about Lamar's latest mistress coming forward," a family insider told Radar.
Article continues below advertisement
"She has been crying hysterically. Kris has been trying to calm her down, but Khloe seems to know in her heart that Lamar has been indeed cheating on her. Lamar is Khloe's entire world, and she can't understand why he would cheat on her. It's really, really sad, because she loves him so much."
Just three weeks after Star magazine revealed that Lamar had a yearlong affair with 29-year-old Jennifer Robinson, another bombshell has dropped: She wasn't the only one!
Gorgeous brunette lawyer Polina Polonsky told the magazine that she had an alleged six-week affair with Lamar, 33, earlier this summer.
What's more, Radar has learned she even passed a polygraph test regarding the claims!
Polina alleges that she and Lamar first met on June 2 at L.A.'s Roosevelt Hotel and according to her, the NBA star had been living at the plush hotel for a week, at that point, as his marriage struggled.
Article continues below advertisement
"I was under the impression that he had left Khloe, and that's why he was living at the Roosevelt," Polina explained. "He acted completely available and we definitely had a mutual attraction."
Their flirtation escalated during meetups at the Roosevelt over the next week, and by June 9, they had their first kiss.
On June 13, they consummated their relationship at Polina's apartment, she claimed.
When other women in the past have claimed to have hooked up with Lamar, "Khloe didn't take it seriously. She is completely rattled that Jennifer took and passed a lie detector test," the source told Radar.
"Lamar hasn't been denying the affair as strongly as he did with others in the past. Khloe is literally feeling sick to her stomach. It's just gut wrenching to watch her go through this."