Going Public! Lamar Odom's Mistress Emerges From Hiding Amid Khloe Kardashian Cheating Scandal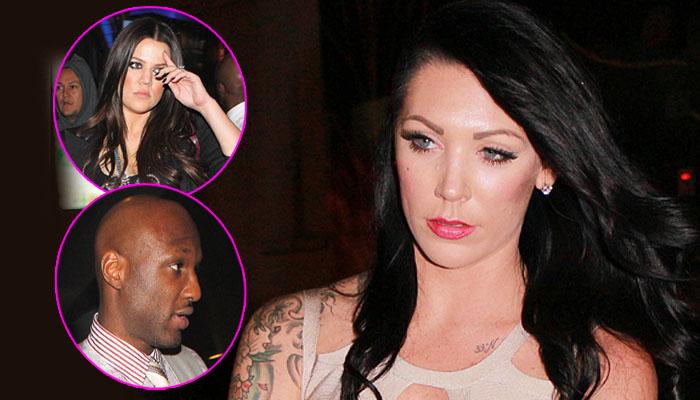 Look out Khloe, the woman linked to your husband in a cheating scandal is right around the corner!
Jennifer Richardson partied at Hollywood nightclub Eden during Saturday's early morning hours, surfacing in public for the first time since detailed charges of a long affair with Lamar Odom surfaced.
Lamar has been cheating on Khloe Kardashian with Jennifer since January, 2012, a source told Star magazine. And as RadarOnline.com reported exclusively, Khloe banished Lamar from their bedroom and then kicked him out of the house!
Article continues below advertisement
Lamar and Jennifer had a sexual encounter in Washington, D.C. and then hooked up in North Carolina last year while he was playing for the Los Angeles Clippers of the NBA – and that started an affair that took place in several cities, as Star reported.
Now, with her marriage in tatters, Khloe still wants to hang on to Lamar, a source told RadarOnline.com exclusively, and Khloe is desperate to have a baby and avoid divorce.
But that's going to be difficult now that Jennifer has surfaced in Hollywood, partying for all to see, not far from the Kardashian home!
While Jennifer has not spoken publicly about the affair, the Star report says Lamar even had a threesome with Jennifer and another woman on December 24, 2012.
"Lamar had told Jennifer that he really wanted to have a threesome," the Star source claims. "She wanted to make him happy, so she asked a pretty friend to join them in bed. Lamar stayed an extra night in Phoenix, and the three of them hooked up on the morning of Christmas Eve!"
Article continues below advertisement
In January, Khloe gave Lamar the boot from the home. And sources tell RadarOnline.com he is sometimes allowed back in the home now, but the marriage is deeply troubled.
Odom lost his cool with photographers last Wednesday in Los Angeles when he was asked questions about the cheating scandal and Khloe jumped to his defense on Twitter. She slammed the pap who was involved, and tweeted "shout out to my hubby" for posing with a fan.
She also responded to one fan commenting on the situation by tweeting, "hehehe, I just love my hubby."
But the brief public support is far from the private fighting that continues to engulf the couple, a source tells RadarOnline.com. Khloe and Lamar have not been photographed together in approximately a month and Lamar is still sleeping in a separate bedroom when Khloe allows him back at the house.
Now with Jennifer back in the picture in Hollywood, the situation is sure to grow even more tense!