Exclusive
Divorce Drama: Khloe Kardashian Forced Lamar Odom Into Separate Bedroom Before Kicking Him Out Of House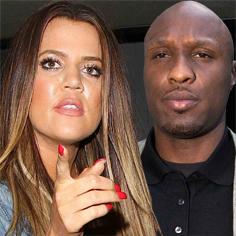 In the days before Khloe Kardashian booted Lamar Odom from their mansion, she first exiled him to a separate bedroom as their marriage unraveled, RadarOnline has learned exclusively.
The divorce drama, first reported by RadarOnline.com, unfolded as Khloe lost her trust in Lamar, worried that he had been cheating on her. And she had good reason to worry. Lamar has been cheating on Khloe for months, according to Star magazine's new issue, which reports the NBA player carried on a year-long affair with Jennifer Richardson, a 29-year-old brunette he first met at the Stadium Club strip club in Washington, D.C.
Article continues below advertisement
Khloe and Lamar's marriage has been troubled for a long time, a source told RadarOnline.com.
"Things have been very, very tense in the house for a great deal of time," a source close to the couple told RadarOnline.com. "Khloe kicked Lamar out of their bedroom several months ago and he was sleeping in one of the mansion's guest rooms.
"She fears Lamar has been cheating on her with various women. It really irked Khloe when Lamar was blatantly caught going to a strip joint."
But that was just the beginning. Because after meeting Richardson at the strip club, Lamar had an intimate dinner with her and took her back to his hotel room. Lamar started "grabbing her butt and kissing her sweetly on the neck," a friend or Richardson's told Star. "She said he was an amazing kisser."
Although the two did not have intercourse, "they did everything else," says the friend,. "It was incredibly intimate."
Article continues below advertisement
And it didn't end there -- in fact that was just the beginning. He gave her approximately $3,000 and approximately 11 months later ran into her in North Carolina. By this time he was playing for the Los Angeles Clippers, having left the Dallas Mavericks and they rekindled their relationship. Then on Dec. 24, 2012, Lamar, Jennifer and another woman had a threesome, the mag says.
Lamar's sexual relationship secretly continued with Jennifer, says Star, and RadarOnline.com has learned that Khloe's suspicions grew and grew. She lost trust in him and the marriage was in big trouble, the source told RadarOnline.com.
That's when she banished Lamar from their bedroom to a separate bedroom and they began sleeping apart.
But things did not get better and finally Khloe gave Lamar the boot, making him leave the house.
Now, with the marriage in tatters, Lamar "still does spend the night at the house once in awhile. Lamar doesn't want the marriage to end," the insider revealed.
Meanwhile, the trauma motivated Khloe "to get in the best shape of her life. She thinks the best revenge is being thin and happy. Khloe has a very good head on her shoulders and won't be made to look like a fool," the source added.
Article continues below advertisement
Richardson has proof of her affair with Odom and for that and other details pick up the new issue of Star magazine, on sale Friday.
UPDATE: Lamar went ballistic on a photographer Wednesday and Khloe jumped to his defense on Twitter. She slammed the pap, and tweeted "shout out to my hubby" for posing with a fan. She also responded to one fan commenting on the situation by tweeting, "hehehe, I just love my hubby."
But the brief public support is far from the private fighting that continues to engulf the couple, the source tells RadarOnline.com. Khloe and Lamar have not been photographed together in approximately a month and Lamar is sleeping in a separate bedroom when Khloe allows him back at the house.
Meanwhile, Khloe, in a very un-Kardashian move, has remained silent about the affair allegations as their marriage drama continues.