First Photos: Khloe Kardashian Steps Out Without Lamar Odom As Cheating Scandal Explodes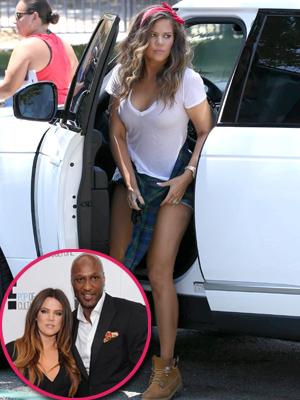 Khloe Kardashian stayed close to home in her native Calabasas, Calif. Tuesday -- just hours before the bombshell report broke that she's kicked husband Lamar Odom out of the house after learning of his year-long fling with a stunning brunette -- and we've got the first photos for you right here on RadarOnline.com.
The youngest of the three Kardashian sisters was once again without Lamar but accompanied by her brother Rob to the LAB Brewing Co., clad in a white t-shirt, denim cut-offs and boots on the scorching summer day.
Article continues below advertisement
As RadarOnline.com reported earlier Wednesday, the new issue of Star magazine says Khloe gave Lamar the eviction notice around June 8 after she learned he carried on a year-long affair with Jennifer Richardson, a 29-year-old beauty he met in Washington, D.C. While on the road with the Los Angeles Clippers.
But she might have some remorse about the decision, as a source tells Star, "Khloe is freaking out, begging him to come back."