Kris Jenner Defends Lamar Odom's Fight With Paparazzi After Cheating Scandal: 'He Doesn't Have A Temper'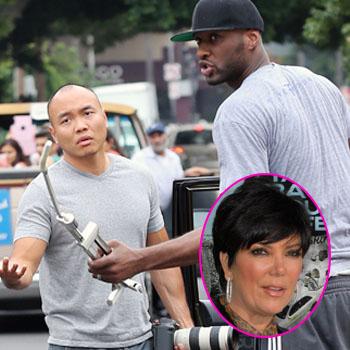 Article continues below advertisement
"It was hysterical to see your son in law Lamar Odom have that little melt down with the paparazzi," they guys said to Kris.
Feigning ignorance, Kris said "I didn't see that," but when she was asked if Lamar had "a temper like that?" she quickly leapt to his defense.
"Oh he's the greatest guy in the world. Lamar doesn't have a temper," Kris said.
Khloe and Lamar's divorce drama, first reported by Radar, unfolded as she lost her trust in her husband, worried that he had been cheating on her. And she had good reason to worry. Lamar has been cheating on Khloe for months, according to Star magazine's new issue, which reports the NBA player carried on a year-long affair with Jennifer Richardson, a 29-year-old brunette he first met at the Stadium Club strip club in Washington, D.C.
Listen below.
https://media.radaronline.com/brand-img/wp-content/0x0/2013/07/kris-jenner.mp3
The alleged cheating scandal caused Odom to lose his cool with photographers in Los Angeles and Khloe jumped to his defense on Twitter. She slammed the pap, and tweeted "shout out to my hubby" for posing with a fan. She also responded to one fan commenting on the situation by tweeting, "hehehe, I just love my hubby."
Kris said that there was a reason behind Lamar's uncharacteristic behavior.
"When somebody that doesn't have a temper gets really upset about something there's a back story.
"I don't judge anybody else's actions until I really hear it from the horse's mouth and I know what's going on I don't like to judge other people and be cruel like that."