Exclusive
'He Went On Cocaine Binges With High-End Call Girls -- Behind Wife Khloe's Back,' Troubled Star's Pusher Claims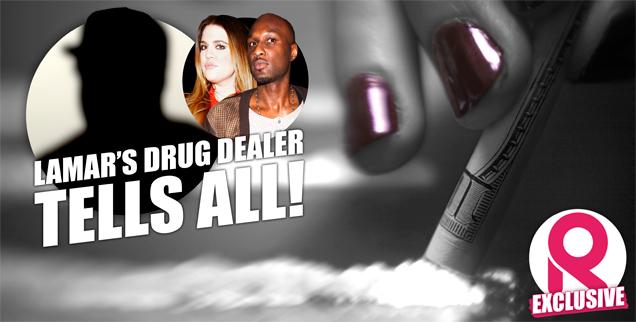 Lamar Odom liked to get high as a kite on cocaine while partying with high-end call girls, the man claiming to have supplied the NBA player with his drugs during trips to New York City exclusively tells RadarOnline.com.
While in the Big Apple over the past three years for various reasons — basketball games, public appearances and visiting his children with ex Liza Morales — troubled Odom, 33, partied hard with other women behind the back of his supportive wife, Khloe Kardashian, the star's "Mr. Fix It" sensationally claims.
Article continues below advertisement
"Women who I really don't know," the self-confessed dealer, who agreed to speak with RadarOnline.com on the condition we obscure his face and voice, replied when asked who was in the presence of Odom when he smoked cocaine.
"His marriage is in the toilet bowl, but he likes the high end prostitute, you want to call them… I've seen him with ladies that weren't his wife."
"They were having a good time. They were using drugs. They were going to party, to drink," the man added.
"I've never seen him having sex with a woman, absolutely not. I've seen him a little more friendly with women who I know, who are known users and escorts to the celebrities, to the stars, and are much more friendly than his wife would be happy to…"
When asked if Odom ever mentioned his wife, 29-year-old E! star Khloe, the dealer immediately answered with a strong negative: "No, no. Never talks about her… He's a very discreet… I would call him a nice guy."
Article continues below advertisement
Article continues below advertisement
"Absolutely. I've seen Robert before. Robert is, I have nothing to say about Robert. I've never seen Robert do anything outside of have fun and drink at parties. But I've seen him," the dealer said, providing photographic proof.
"I don't know much about Robert, but I've seen them together, yes, absolutely."
As RadarOnline.com probed the drug dealer on Odom's cocaine use, talk of rehab was brought up and the dealer agreed that Odom needs to get clean.
"At this point, from what I hear and what I see, and not just what I hear in the tabloids and on the TV, but from what I hear from people close to him, he absolutely needs help," the man told RadarOnline.com.
GALLERY: Dumped, Deceived and Devastated – 50 Stars Betrayed By Their Men
"And more or less, me agreeing to this sit-down is maybe my way of actually saying, 'Dude, you're going to ruin your life.' It's not recreational fun anymore."
Article continues below advertisement
"But its crossed the line for Lamar Odom?" RadarOnline.com asked.
"Obviously. When your marriage is being jeopardized, when your work is being jeopardized, when you're being arrested, when you're being questioned by the public, when it's not a private thing, it's not in the comforts of your own home or at a hotel room, and everybody...it's become public knowledge that, dude, you're a drug addict," the dealer replied.
"It's not like, you know, I get high every once in a while...and that may not be right, but this is becoming to the point where you can lose your life. It can kill you."
In fact, the dealer fears that if Odom doesn't get the help he needs things could take a turn for the worse very quickly.
"I don't know him enough and I'm not around him enough to safely say that it's getting that bad," he said.
"But I also do know people who have used drugs once or twice and have died from cardiac arrest and from things like that, so if you're abusing more and more and you're branching out and abusing more drugs and mixing drugs and experimenting, you're putting yourself at a great risk."
His message to Odom, who wed Khloe in 2009: "Cut the sh*t. The party's over."
Odom, via his agent and manager, did not return a request for comment.