Dumped, Deceived & Devastated: 50 Stars Betrayed By Their Men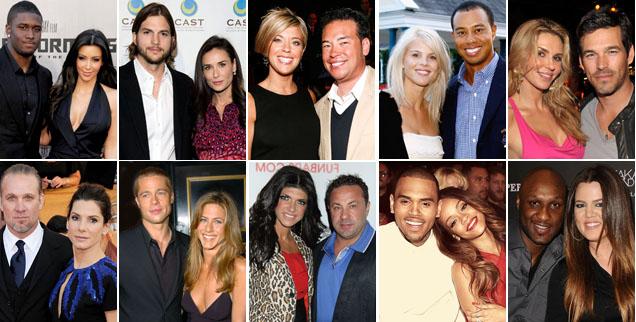 While it happens everywhere, in Hollywood, the lights of a cheating scandal burn especially bright and hot -- check out this gallery of 50 celebs who've been betrayed by their men.
Article continues below advertisement
Halle Berry and Eric Benet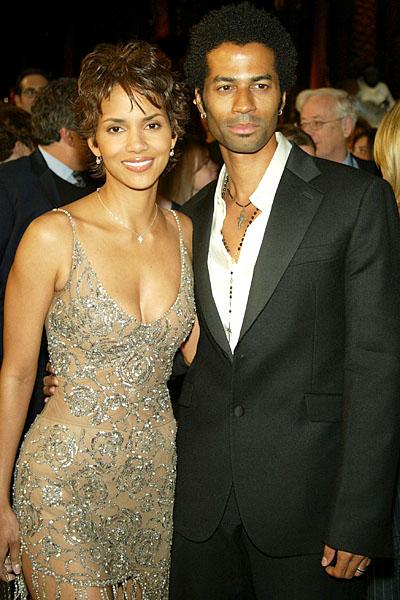 Halle Berry: The stunning actress is currently giving marriage (her third!) another try with French actor Olivier Martinez. But fans were shocked when her second husband, R & B singer Eric Benet, admitted he had cheated on her. Benet underwent sex addiction treatment in 2002 but Halle divorced him in 2005.
Liberty Ross, Rupert Sanders and Kristen Stewart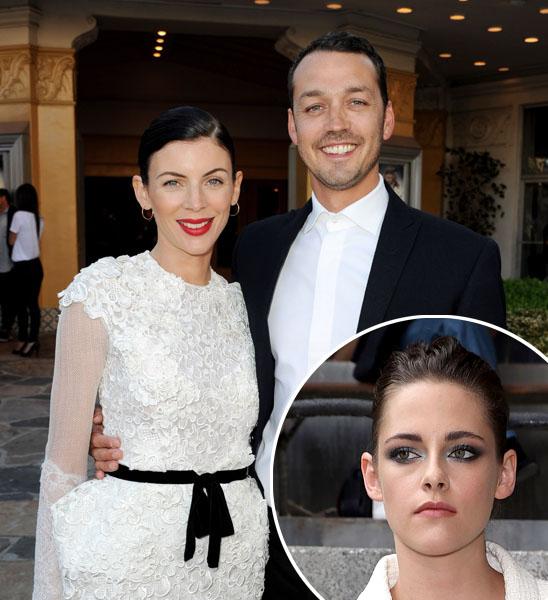 Liberty Ross: The Snow White and the Huntsman actress' director husband, Rupert Sanders, cheated on her with Kristen Stewart after they met on the film. Kristen was also straying -- from her Twilight boyfriend Robert Pattinson – and begged forgiveness after the affair was exposed last year. Liberty said after the scandal, "I felt incredibly vulnerable." She's now divorcing Sanders.
Article continues below advertisement
Chad Michael Murray and Sophia Bush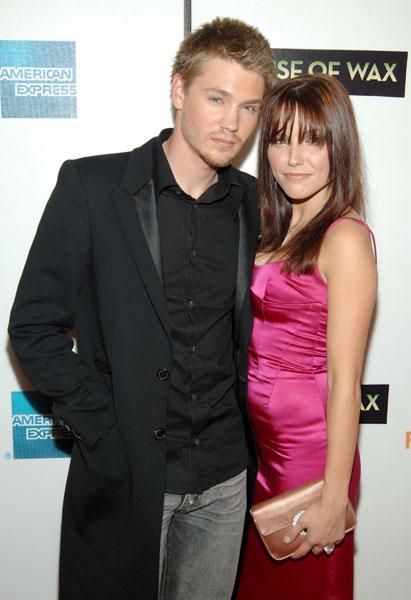 Sophia Bush: In 2005, the young actress was crushed when she discovered her husband and One Tree Hill co-star Chad Michael Murray was allegedly sneaking around with another woman. Sophia filed papers to have their marriage annulled, listing "fraud" after just five months. She later said, "It devastates me now that I have been reduced to a Hollywood statistic–-another joke marriage."
Article continues below advertisement
Angelina Jolie, Brad Pitt and Jennifer Aniston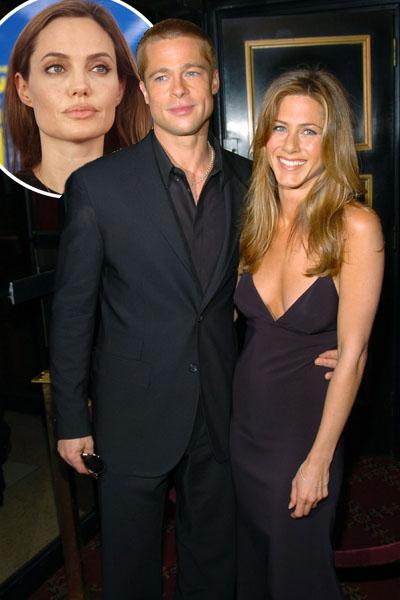 Jennifer Aniston: Jennifer and Brad Pitt were Hollywood's golden couple when they married in 2000. But then Brad filmed steamy scenes in the movie Mr. and Mrs. Smith with his co-star Angelina Jolie, and things were never the same! Jen divorced Brad in 2005 after his reported cheating and the actor is now raising six kids with partner Angelina, although they still haven't married. Jen, who's now engaged to Justin Theroux, famously said Brad lacked a "sensitivity chip."
Article continues below advertisement
Elin Nordegren and Tiger Woods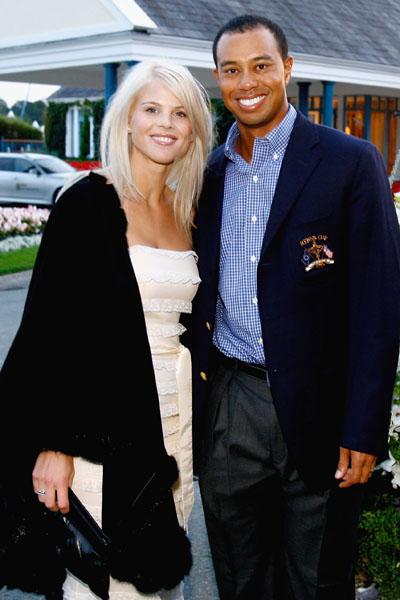 Elin Nordegren: The Swedish model learned of husband Tiger Woods' infidelity in 2009, when The National Enquirer reported that the golfer had slept with nightclub manager Rachel Uchitel. Ultimately, more than a dozen women came forward claiming to have had affairs with Woods, including Jaimee Grubbs, who shared his racy text messages with US Weekly. Woods and Nordegren divorced in August 2010 and he's now seeing skier Lindsey Vonn.
Article continues below advertisement
Elizabeth Hurley and Hugh Grant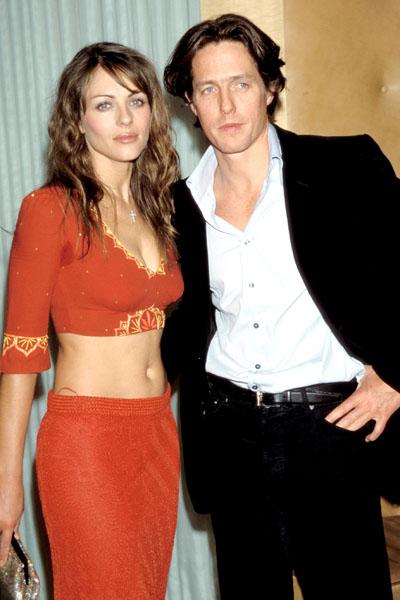 Elizabeth Hurley: The world was stunned when Hugh Grant cheated on his longtime girlfriend, sexy actress Elizabeth, in the most bizarre way possible—with a streetwalker! However, Liz supported Hugh through the scandal after he was arrested for soliciting services from female prostitute Divine Brown in Los Angeles in 1998. The two Brits split years later, in 2000, after 13 years together.
Article continues below advertisement
Ryan Phillippe and Reese Witherspoon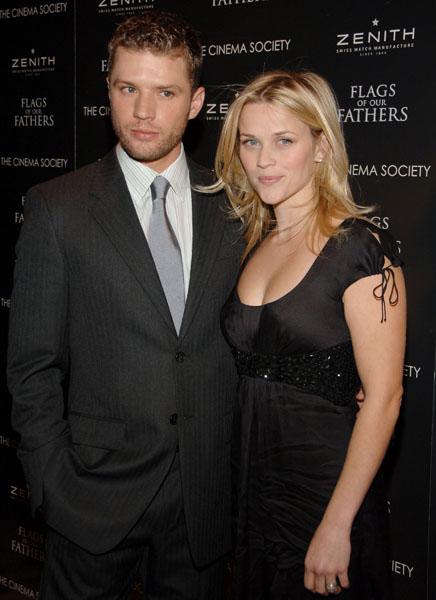 Reese Witherspoon: Ryan Phillippe allegedly betrayed wife Reese with his Stop-Loss co-star, Australian actress Abbie Cornish. The actor later admitted he was "not a perfect person." After Reese divorced Ryan in 2007, Ryan and Abbie continued their relationship, but they split up in 2010.
Article continues below advertisement
Sienna Miller and Jude Law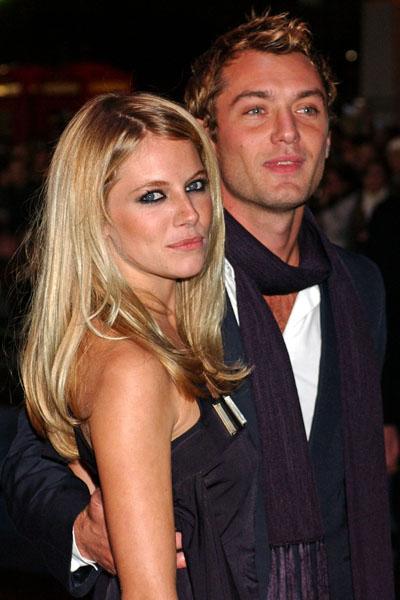 Sienna Miller: The Factory Girl star broke off her engagement to Jude Law after he made a shocking public admission to having an affair with his children's former nanny, Daisy Miller. Sienna admitted the infidelity was devastating: "There was a loss of innocence on my part." Incredibly, Sienna took Jude back but they broke up again in 2011.
Article continues below advertisement
Billy Crudup, Claire Danes and Mary Louise Parker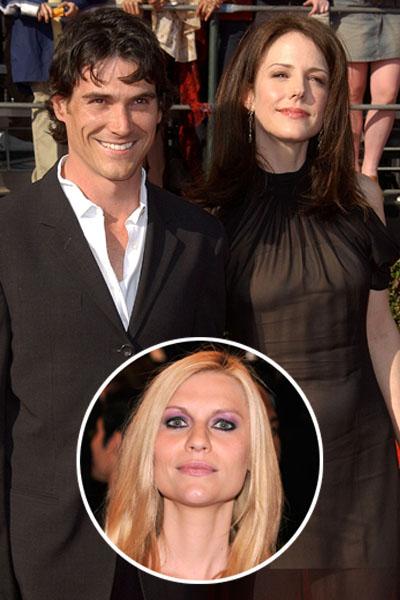 Mary Louise Parker: In 2003, actor Billy Crudup reportedly left the future Weeds star—who was seven months pregnant with their child--for his Stage Beauty co-star Claire Danes. Although Billy denied an affair, he and the suspected other woman Claire soon were openly dating (they split in 2006, however).
Article continues below advertisement
Uma Thurman and Ethan Hawke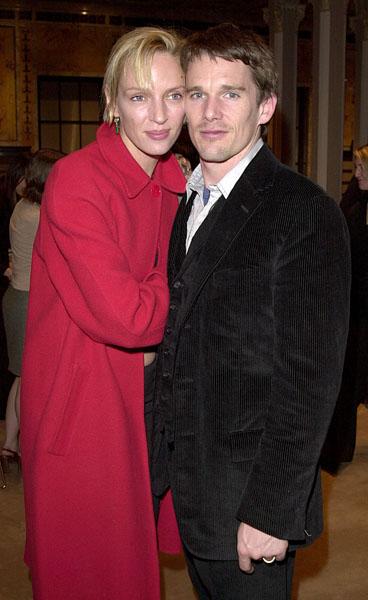 Uma Thurman: Tabloids reported that Uma's husband, Ethan Hawke, had cheated on her with a 22-year- old he met on a movie set in 2003. But it got worse, news broke that Ethan Hawke had also had an affair with their children's nanny, Ryan Shawhughes. Ethan has claimed his marriage to Uma was over when he started romancing Ryan. After Uma and Ethan divorced in 2004, he married his alleged mistress in 2008.
Article continues below advertisement
Christie Brinkley and Peter Cook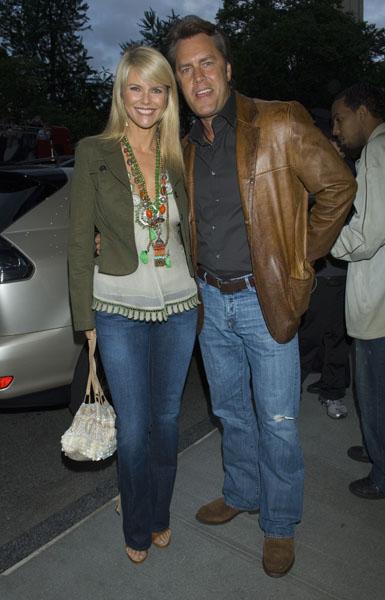 Christie Brinkley: The supermodel filed for divorce after it was revealed that her husband Peter Cook had an affair with his 18-year-old assistant, Diana Bianchi. Brinkley and Cook divorced that year and she got custody of their kids. "I would never get married again," the supermodel later told Ladies Home Journal after the ordeal.
Article continues below advertisement
Billy Bob Thornton and Laura Dern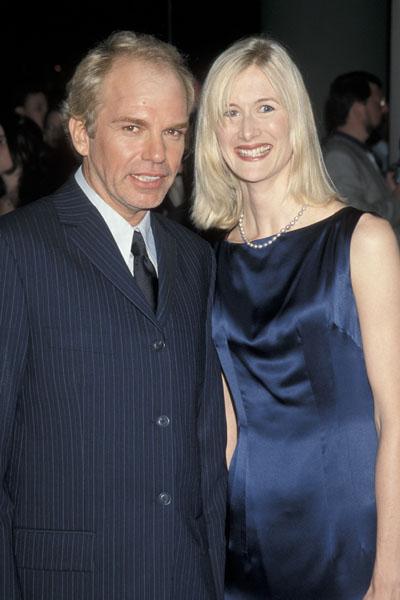 Laura Dern: Billy Bob Thornton cheated on Dern with Angelina Jolie on the set of the movie Pushing Tin and the couple had a quickie Las Vegas wedding in 2000. Dern later revealed, "I left our home to go and make a movie, and while I was away my boyfriend got married, and I never heard from him again."
Article continues below advertisement
Marilyn Manson and Dita Von Teese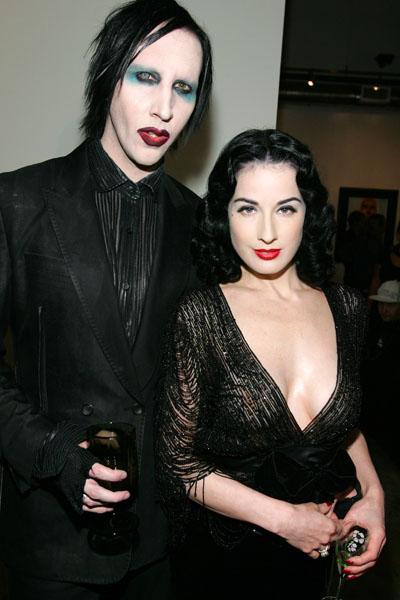 Dita Von Teese: The burlesque queen's husband, rocker Marilyn Manson, cheated on her after a year of marriage with actress Evan Rachel Wood, who was 19 at the time. Dita slapped him with divorce papers in 2007 and said, "I wasn't supportive of his partying or his relationship with another girl." Marilyn and Evan broke up in 2010.
Article continues below advertisement
David Duchovny and Tea Leoni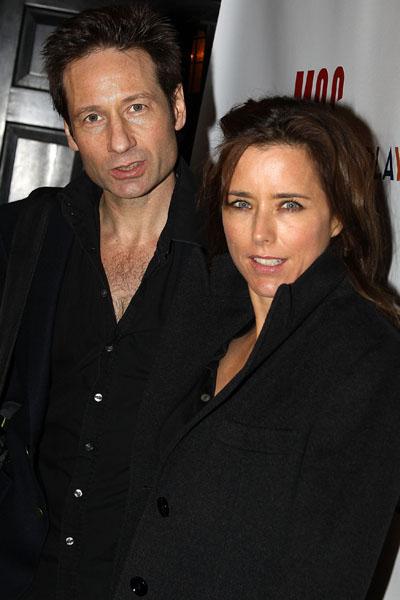 Tea Leoni: The X Files star David Duchovny agreed to seek treatment for sex addiction after wife Tea allegedly discovered his indiscretions and threatened to divorce him in 2008. "He said Tea gave him an ultimatum: Get treatment or our marriage is over," a source told the National Enquirer. The pair, who has two kids, reconciled but then separated in 2011.
Article continues below advertisement
Kelly Osbourne and Luke Worrall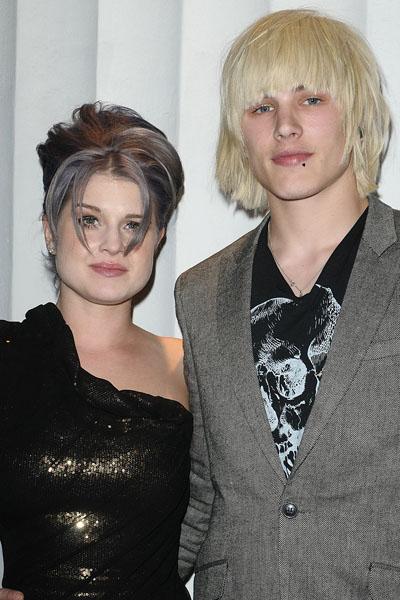 Kelly Osbourne: In 2011, the Fashion Police star suffered a humiliating break-up with her model fiancé Luke Worrall. Kelly discovered he had betrayed her with Elle Schneider, a transsexual who was awaiting gender reassignment surgery! Kelly fumed to Glamour magazine,"Everyone kept telling me that Luke was cheating on me, but I never believed them. It's hard enough to get your head around someone cheating on you, but when someone is a chick with a d**k?"
Article continues below advertisement
Reggie Bush and Kim Kardashian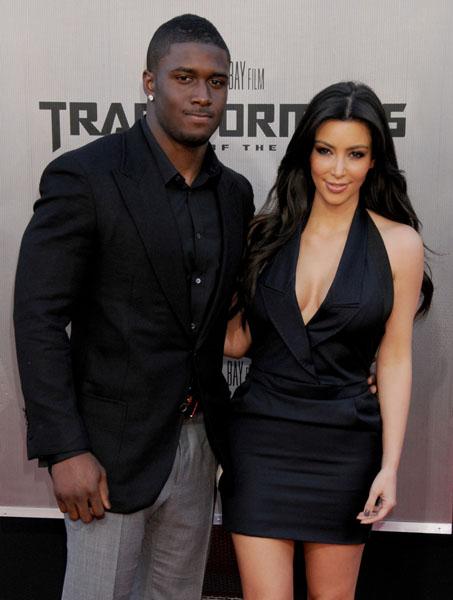 Kim Kardashian: Kim allegedly cheated on by her former boyfriend, football player Reggie Bush, ending their relationship.
Article continues below advertisement
Nas and Kelis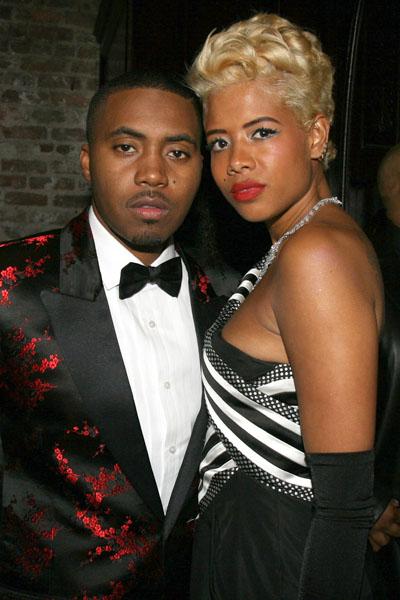 Kelis: The R & B singer married rapper Nas in 2005, but she divorced him after his infidelity. Nas told vh1 he regretted his terrible mistake: "I, at some point, got pissed off during the relationship and strayed, and I wouldn't do that again." Kelis gave birth to the couple's son in 2009 after she had filed for divorce.
Article continues below advertisement
Jesse James and Sandra Bullock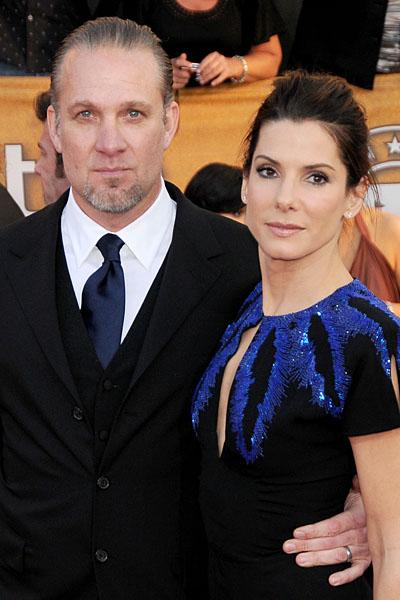 Sandra Bullock: Bullock's nearly five-year marriage to motorcycle customizer Jesse James was shattered following reports of his alleged affair with tattoo model and stripper Michelle McGee. James was subsequently linked to four other women, and checked into an Arizona rehab facility. James asked The Blind Side Oscar winner to forgive him. But the actress filed for divorce in 2010 and she adopted a baby boy, Louis, as a single mom.
Article continues below advertisement
Denise Richards and Charlie Sheen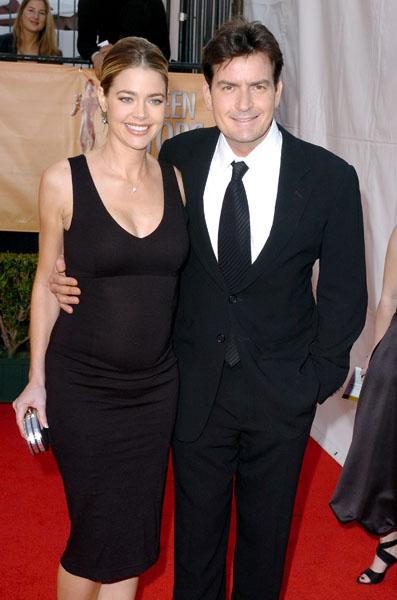 Denise Richards: She's now happy to raise Charlie Sheen's twins from his marriage to Brooke Mueller, but back in 2006, US Weekly reported that actress Denise decided to end her marriage to Charlie after the couple took a holiday in Barbados, and he was caught kissing another woman on the beach!
Article continues below advertisement
Mutt Lange and Shania Twain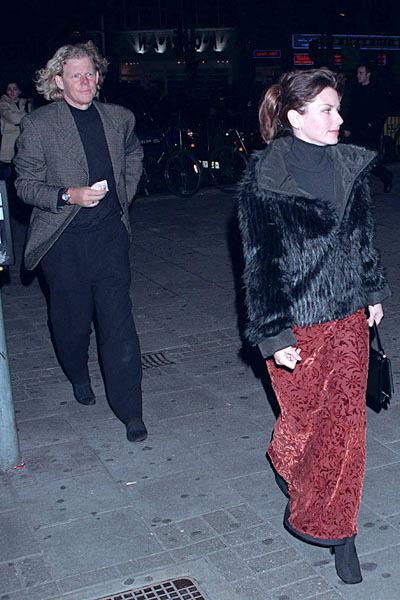 Shania Twain: The country superstar split from Robert "Mutt" Lange, her husband of 14 years, in May 2008 after he had an affair with Marie-Anne Thiebaud, Twain's best friend and the couple's secretary at their Swiss chateau. In 2011, Twain got married again--to Thiebaud's ex-husband Frederic!
Article continues below advertisement
Bill and Hilary Clinton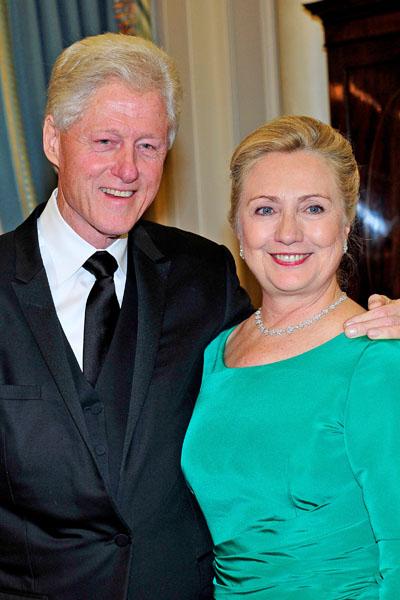 Hillary Clinton: Bill Clinton's 1995-1996 White House fling with Monica Lewinsky almost brought down his Presidency and wrecked his marriage. He and future Secretary of State Hillary patched things up, but it wasn't easy. Hillary said on The Tyra Banks Show in 2008 about Bill's affair, "The momentary feelings -- you know, you are mad, you are really upset, you are disappointed --all of that goes through your mind. I have found you really shouldn't make decisions in the heat of those moments."
Article continues below advertisement
Kathy Lee and Frank Gifford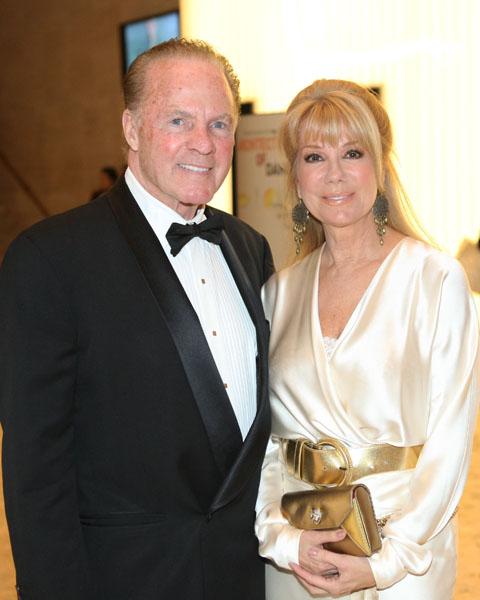 Kathy Lee Gifford: The Globe revealed in 1997 that blonde flight attendant Suzen Johnson had sex with Live hostess Kathy's football legend husband Frank Gifford at New York's Regency Hotel. At first the Giffords denied Johnson's story, but after the tabloid published photos of the encounter, the couple stated, "We will get through this together." Kathy forgave Frank and they have stayed married.
Article continues below advertisement
Tony Parker and Eva Longoria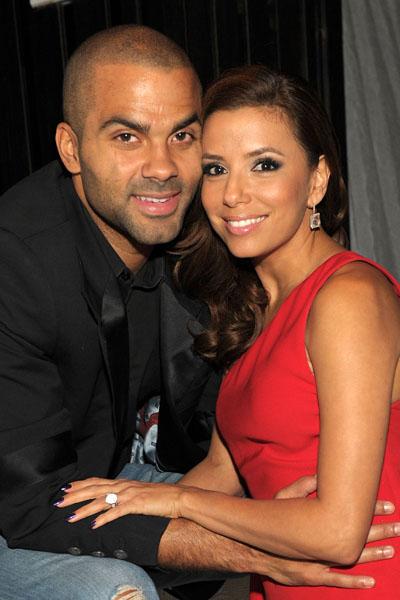 Eva Longoria: It must have been like a scene out of Desperate Housewives when the actress reportedly discovered that her basketball star husband Tony Parker had sent more than 100 text messages to Erin Barry, the wife of his former teammate. Earlier this year, Eva told Dr. Oz that she was so heartbroken after the split that she stopped eating. Evan and Tony divorced in 2011.
Article continues below advertisement
Vanessa Williams and Rick Fox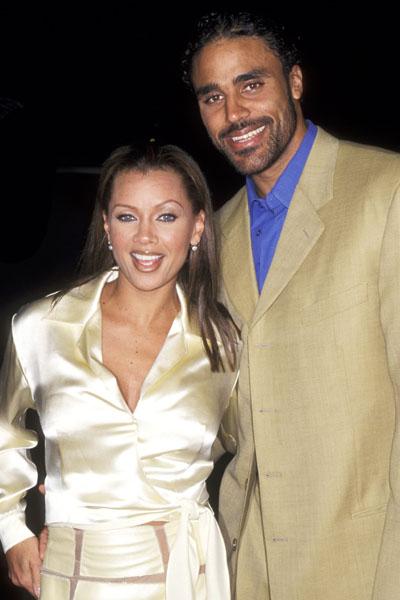 Vanessa Williams: According to the National Enquirer, Vanessa caught her then-husband, former NBA Boston Celtics player Rick Fox kissing a beautiful blonde in June of 2004. Incredibly, the two remained cordial, even through divorce and custody proceedings.
Article continues below advertisement
Vanessa and Kobe Bryant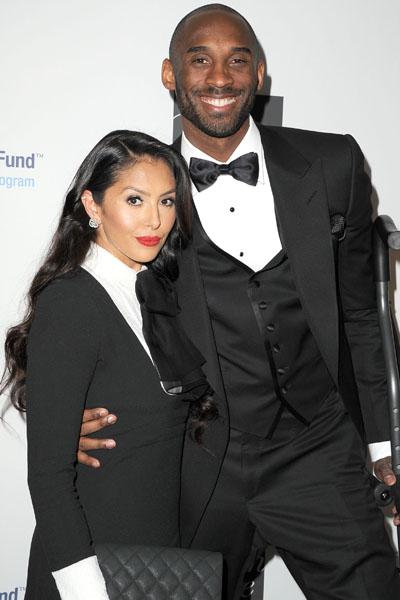 Vanessa Bryant: In 2001, Lakers star Kobe
Bryant married Vanessa, whom he'd met when she was appearing in a music video. Just two years later, their
marriage was tested when he was charged with the rape of a 19-year-old Colorado resort employee. Bryant held a news conference with Vanessa by his side in which he admitted to having adulterous consensual sex with the woman -- but denied having raped her. A year
later, prosecutors dropped the criminal charge against Kobe. Vanessa filed for divorce in 2011 but they've since reconciled.
Article continues below advertisement
The Dream and Christina Milian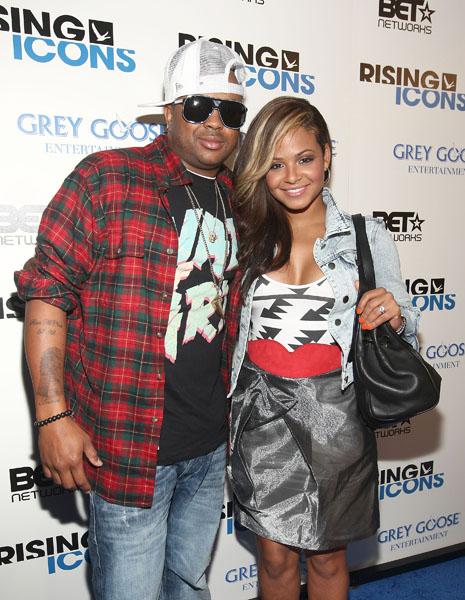 Christina Milian: The future The Voice hostess married R & B singer The-Dream (real name Terius Nash) in 2009, and she got pregnant—but then photos surfaced of Nash on vacation with his female personal assistant, embracing and frolicking in the water. Christina and The-Dream announced their separation less than a day later. Their divorce was final in 2011.
Article continues below advertisement
Bridget Moynahan and Tom Brady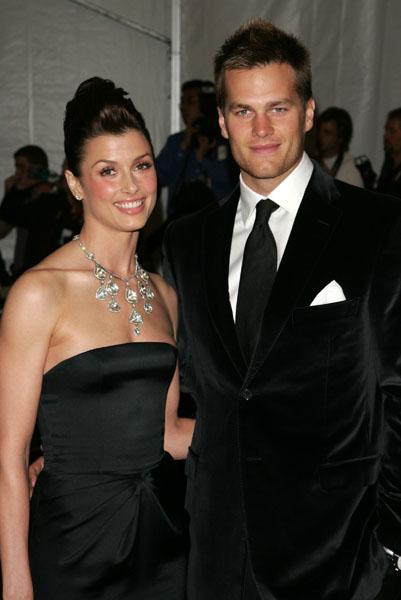 Bridget Moynahan: Sources said football player Tom Brady left the actress for model Gisele Bundchen when she was pregnant with his son, who was born in 2007. The Sex and the City actress was described as devastated, but publicly, she has kept a classy attitude even after Tom married Gisele. Bridget said, "When my life was in the news or when challenging things arose while trying to work things out with another person, my attitude was to take the high road."
Article continues below advertisement
Mario Lopez and Ali Landry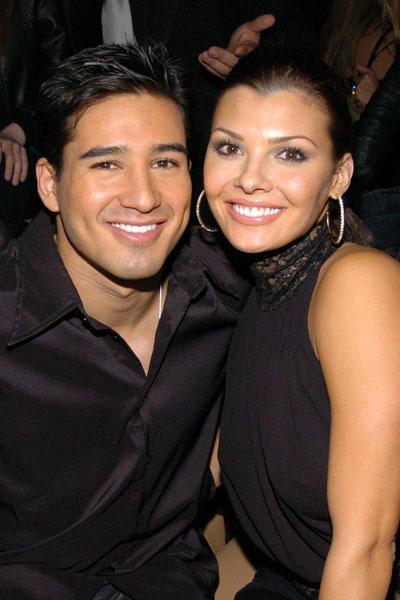 Ali Landry: The former Miss USA and Doritos Girl married Mario Lopez in a Catholic ceremony in Mexico in 2004. But Mario reportedly cheated on Ali with a woman during his bachelor party, and two weeks after their marriage, Ali had it annulled over his infidelity. "He never apologized," Ali fumed years later on The Wendy Williams Show.
Article continues below advertisement
Jennifer Lopez and Ben Affleck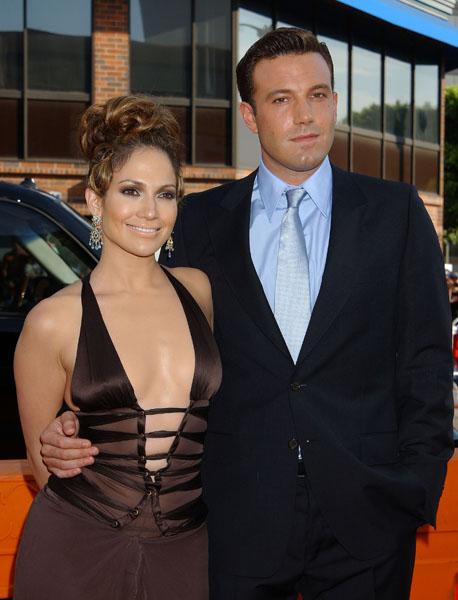 Jennifer Lopez: JLo started dating Ben Affleck in 2002, and the Gigli co-stars got engaged. Ben spent more than a million dollars on Jennifer's 33rd birthday. But then a stripper, Tammy Morris, claimed she cavorted with the actor and three other lap dancers after Ben picked them up in an exotic nightclub in Vancouver. Morris said ben gave the strippers large tips and told them: "Keep this just between us." Jennifer dumped Pearl Harbor actor and called off their wedding after the humiliating revelations.
Article continues below advertisement
Eddie Fisher, Elizabeth Taylor and Debbie Reynolds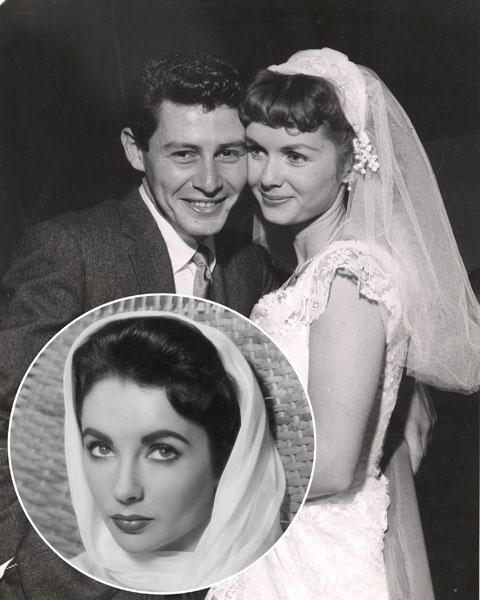 Debbie Reynolds: While crooner Eddie Fisher was married to America's sweetheart, Debbie Reynolds, he began an affair with Elizabeth Taylor after her husband (and Eddie's friend) Mike Todd died. Debbie was heartbroken as Eddie divorced her and eventually married Elizabeth in 1959. "I was the last to find out about the affair," Debbie recalled years later. But in a bit of poetic justice for Debbie, the violet-eyed temptress left Eddie for Richard Burton five years later!
Article continues below advertisement
Ashton Kutcher and Demi Moore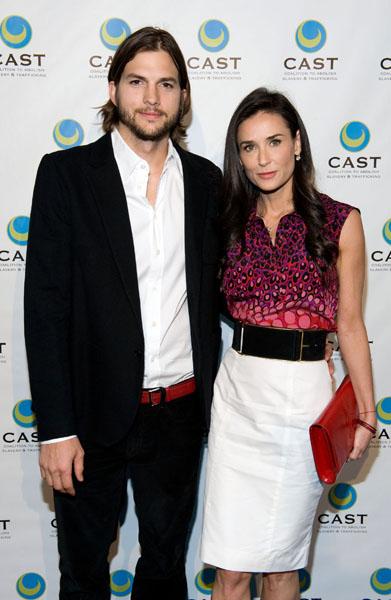 Demi Moore: Demi's younger man, husband Ashton Kutcher, rang in their sixth wedding anniversary in 2011 by getting sexy with young blonde Sara Leal in San Diego, according to US Weekly. Sources said Ashton invited Leal and her pal to his Hard Rock hotel suite, where they got naked and made out in a hot tub! Demi and Ashton split and according to TMZ, the Indecent Proposal actress, who has more in the bank than her husband, has demanded spousal support as their divorce drags on.
Article continues below advertisement
Lamar Odom and Khloe Kardashian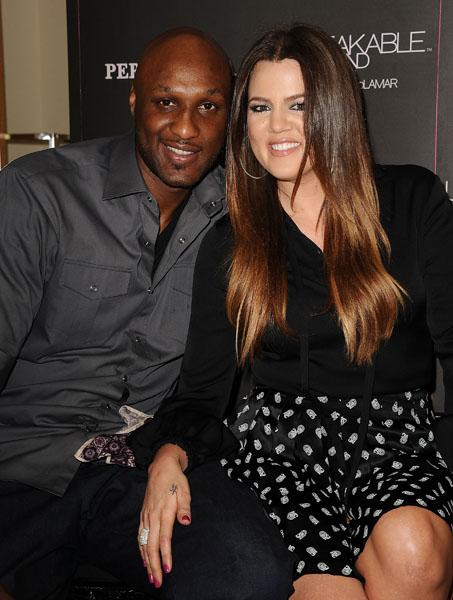 Khloe Kardashian: Khloe and her husband Lamar Odom have looked cuddly for years on the Kardashians' reality shows, but now, Jennifer Richardson has claimed in Star Magazine that she had a torrid love affair with the basketball player in Jan. 2012. Jennifer said in Star that she traveled with Lamar to many of his road games and they would often sleep together right before he would fly home to his wife, Khloe. So far, Khloe has had a "stand by her man" attitude, but, fans wonder, for how long?
Article continues below advertisement
Kate and Jon Gosselin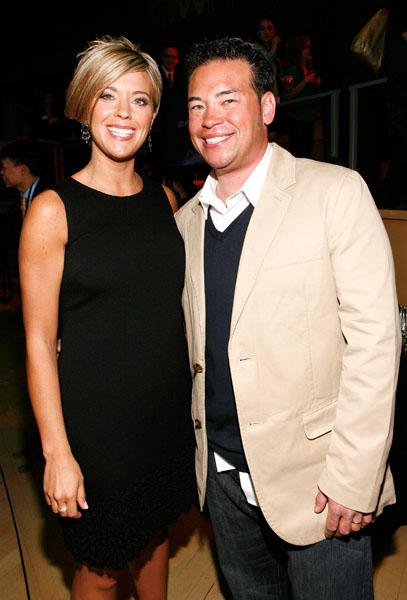 Kate Gosselin: In May 2009, US Weekly revealed reality dad Jon Gosselin's three-month affair with elementary school teacher Deana Hummel, then 23. Kate and Jon -- the famous parents to eight kids -- officially divorced in December 2009 after ten years together. Years later, Jon apologized to Kate through People magazine and added, "I did stuff I wouldn't want done to me."
Article continues below advertisement
Brandi Glanville, Eddie Cibrian and LeAnn Rimes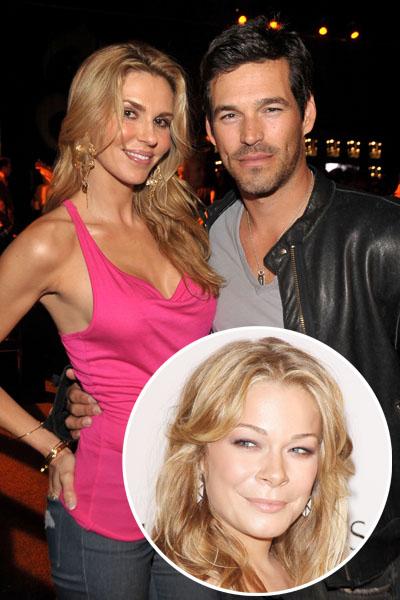 Brandi Glanville: In 2009, Brandi's marriage to actor Eddie Cibrian ended with a bang after US Weekly reported his affair with Northern Lights costar LeAnn Rimes, also married at the time. Eddie and Rimes both divorced their spouses to marry each other in 2011. Brandi has talked and tweeted endlessly about LeAnn stealing her man. She has said, "I've never found LeAnn to be be remorseful. I found her to be like, 'Nah-nah-nah, nah-nah, I got your family."
Article continues below advertisement
Jerry Hall and Mick Jagger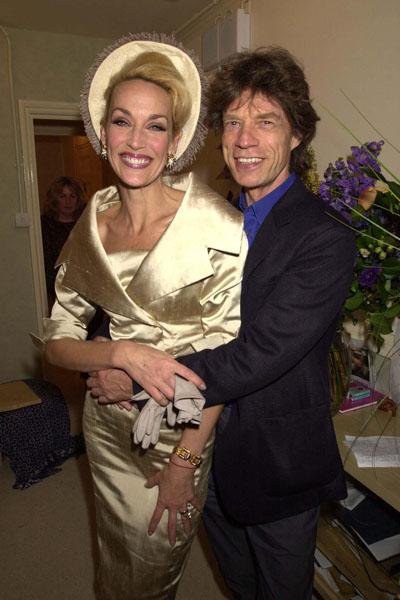 Jerry Hall: Despite being in a fifteen-year relationship with Jerry Hall that had produced four children, Mick Jagger got a Brazilian model pregnant and then had the gall to have his marriage to Jerry annulled because their Hindu wedding ceremony, performed on a beach in Bali in 1990, was deemed to be invalid in the UK. In her autobiography, Jerry Hall called the Rolling Stone a "sexual predator" who "could not help indulging himself with other women."
Article continues below advertisement
Chris Brown and Rihanna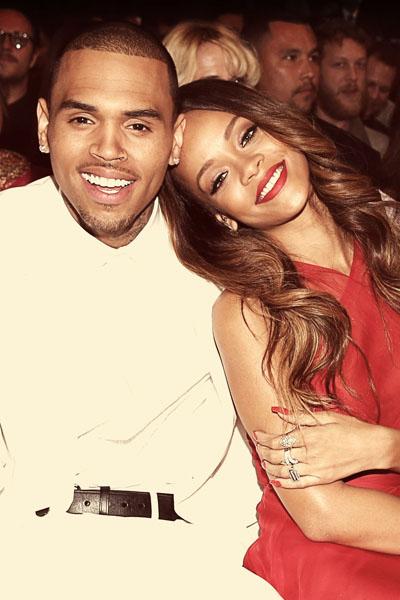 Rihanna: The pop star, who rekindled her love affair with the man who beat her up, ex-boyfriend, Chris Brown, was mistreated by him yet again, according to sources, when he recently stepped out with New York waitress Karizma Ramirez. The cheating rumors appear to add insult to injury, as Brown pleaded guilty to felony assault of Rihanna in 2009 after he repeatedly struck her in the face, causing lacerations and bruises.
Article continues below advertisement
David and Victoria Beckham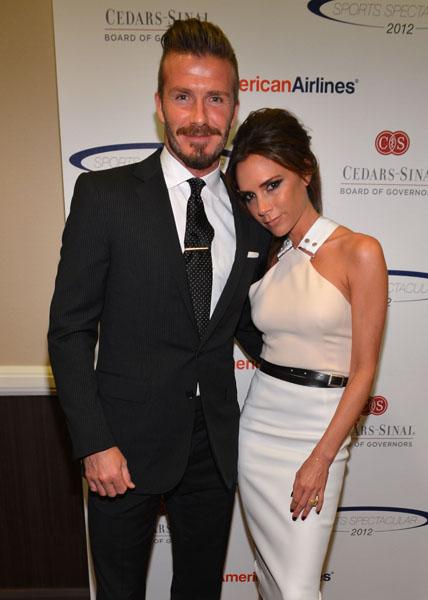 Victoria Beckham: The Spice Girl's marriage to soccer star David Beckham was rocked in 2004 after he was accused of having an affair with personal assistant Rebecca Loos in 2004. Victoria, who was expecting a child at the time, announced that she would stand by her man and work on forgiveness. In the Aug. 2007 issue of W magazine, she admitted that it was an incredibly tough time. "I'm not going to lie … it was hard for our entire families," she said. "David and I got through it together. No one said marriage was going to be easy."
Article continues below advertisement
Tony Romo, Chace Crawford and Carrie Underwood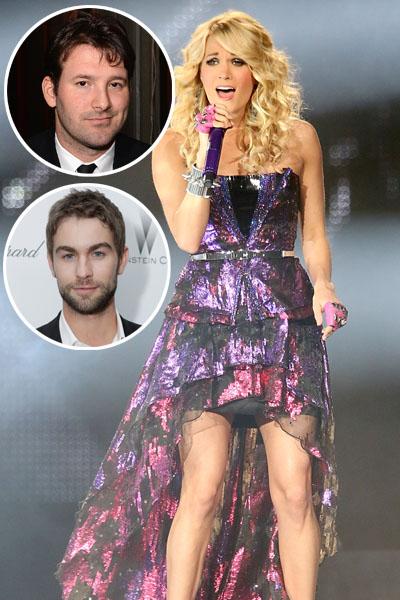 Carrie Underwood: The country star has never said who her hit single, "Before He Cheats," is about but the singer who hit it big on American Idol dated football player Tony Romo and Gossip Girl star Chace Crawford. She wouldn't reveal who the cheater was, but Carrie revealed to InStyle, "I've been cheated on" in the May 2008 issue. Some speculated it was Romo, but only Carrie knows for sure!
Article continues below advertisement
Anjelica Huston and Jack Nicholson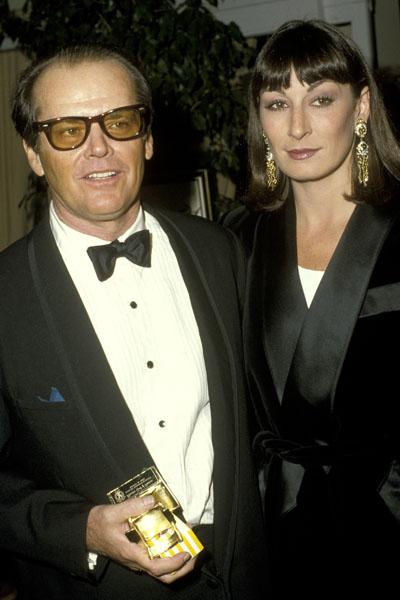 Anjelica Huston: Anjelica Huston's 16-year relationship with Jack Nicholson ended when he got Rebecca Broussard pregnant in 1989. Although she was devastated at the time, while promoting Smash this year, Anjelica admitted Jack is someone she "will continue to love forever."
Article continues below advertisement
Woody Allen and Mia Farrow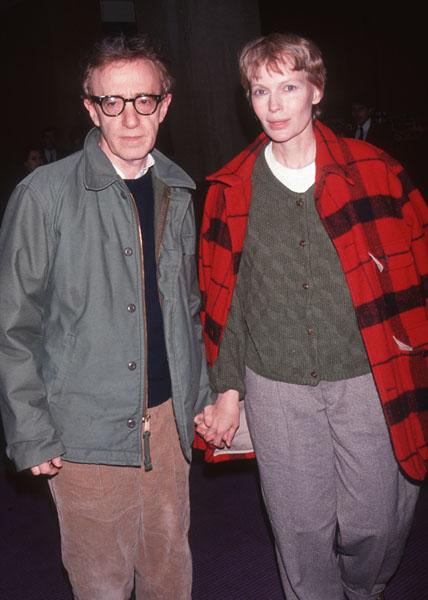 Mia Farrow: Woody Allen was with actress Mia Farrow for 12 years—until 1992, when the actress was shocked to find raunchy nude photos that Woody took of her adopted daughter, Soon-Yi Previn. Woody admitted to the affair, famously saying "The heart what it wants." In 1997, Allen married Soon-Yi, who is 35 years younger, and they're still together.
Article continues below advertisement
Arnold Schwarzenegger and Maria Shriver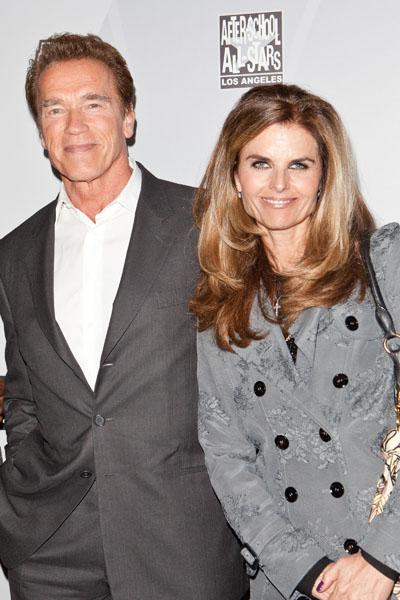 Maria Shriver: After 25 years of marriage, Maria Shriver learned that her husband, California governor and Terminator star Arnold Schwarzenegger, was the father of their housekeeper Mildred Baena's 10-year-old son, Joseph. To add insult to infidelity, Baena was pregnant with Arnold's love child at the same time that Maria was pregnant with their son Christopher! The couple announced their separation in May 2011, days before the scandal went public.
Article continues below advertisement
Rozonda 'Chili' Thomas and Usher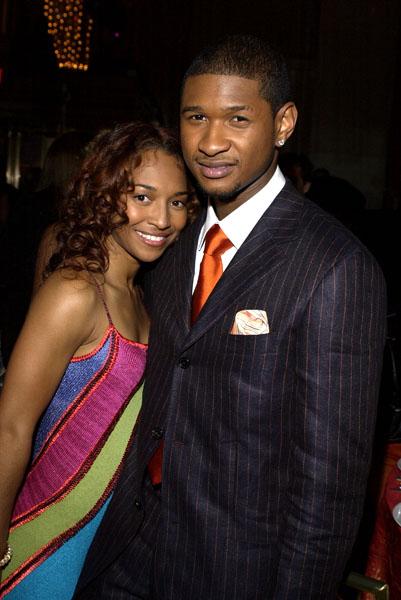 Rozonda 'Chili' Thomas: When R&B singer Usher released his 2004 single 'Confessions Part II,' about a man in a relationship who gets his mistress pregnant, it sounded very autobiographical. Usher had just ended a two-year relationship with TLC member Rozonda 'Chilli' Thomas, amid rumors that he'd fathered a love child with a fan. "I wasn't happy. And I left the relationship as a result of it," he later told Vibe magazine. "There's no honour, I guess, in cheating."
Article continues below advertisement
Amy Irving, Steven Spielberg and Kate Capshaw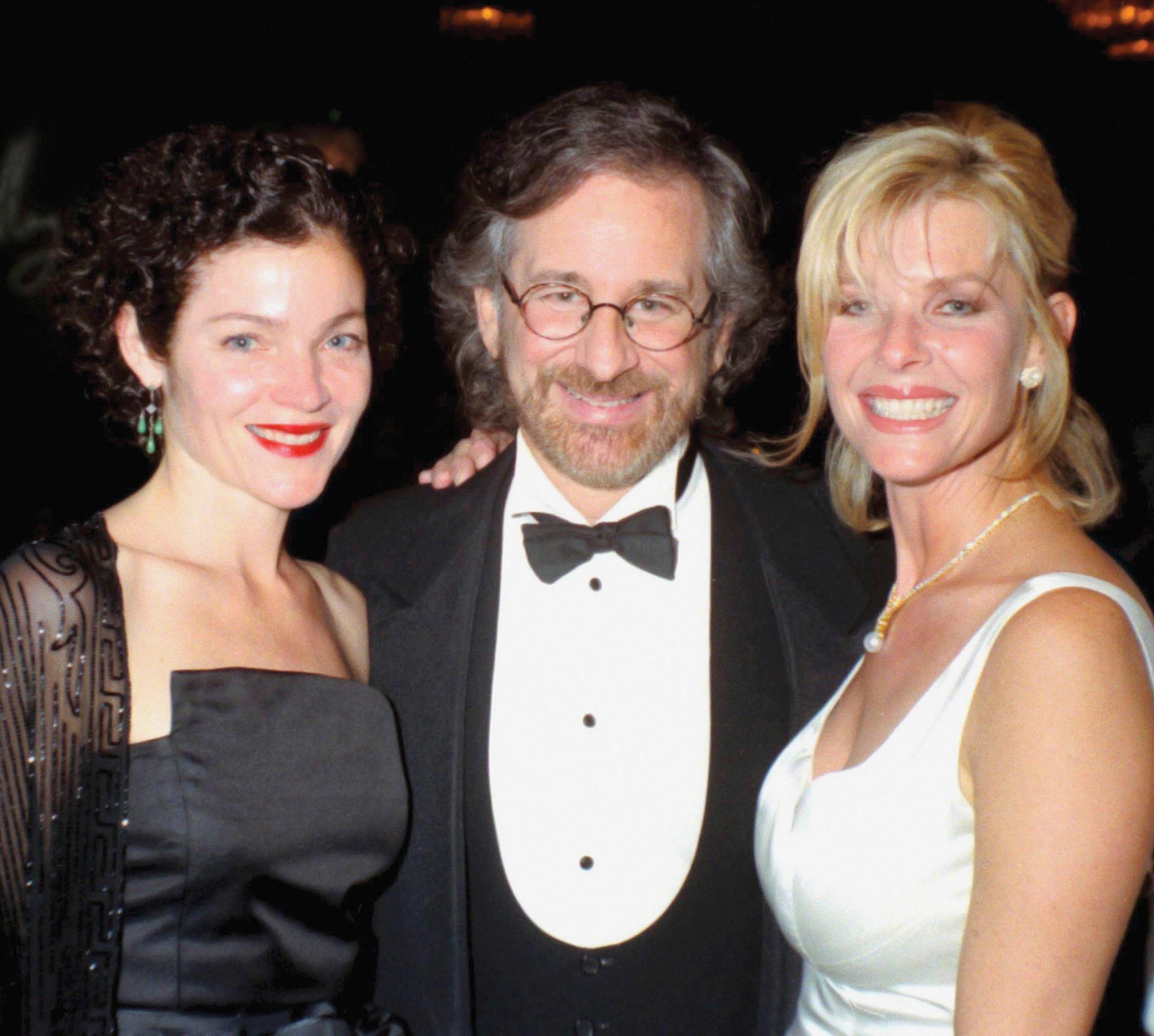 Amy Irving: The Carrie actress' husband, director Steven Spielberg, slipped away to spend time with his Indiana Jones star Kate Capshaw. He ultimately divorced Irving in 1989 and married Capshaw, still his wife. But Amy got the last laugh with one of the biggest divorce settlements in history, as she reportedly walked away with $100 million from Spielberg.
Article continues below advertisement
Don Johnson, Melanie Griffith and Barbara Streisand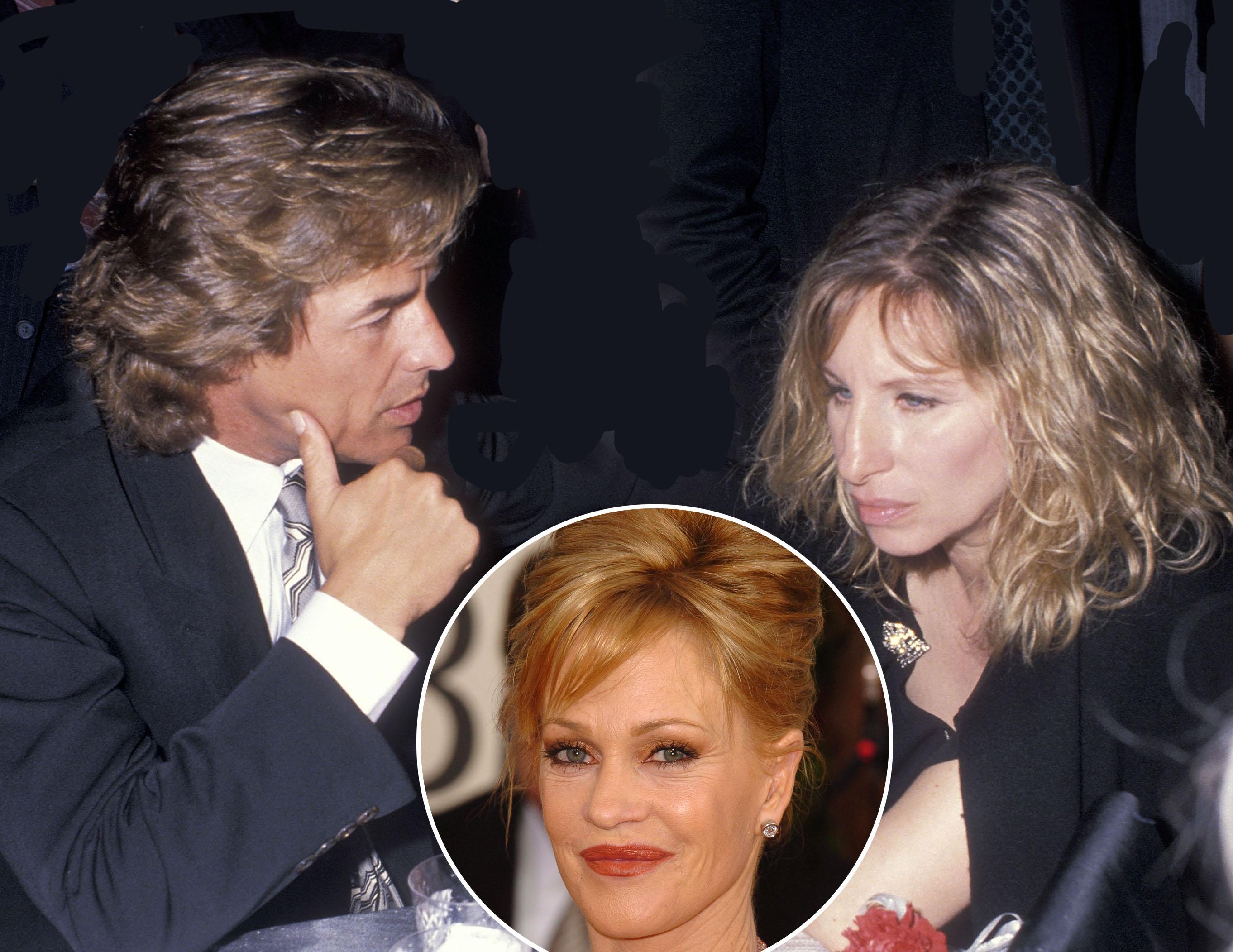 Barbra Streisand: Don Johnson left the singing diva in the lurch to rekindle his relationship with ex-wife Melanie Griffith in 1988. After ex-wife Melanie started drinking, Don came to her rescue, persuading her to check herself into Hazelden for treatment. Three months later, she and Johnson rekindled their romance although he was still seeing Streisand then—ultimately, Don remarried Melanie. Barbra was "very, very crushed by what happened," a friend told People magazine. The only consolation for Barbra, perhaps, was that Don and Melanie's second marriage didn't last, either!
Article continues below advertisement
Danny Devito and Rhea Perlman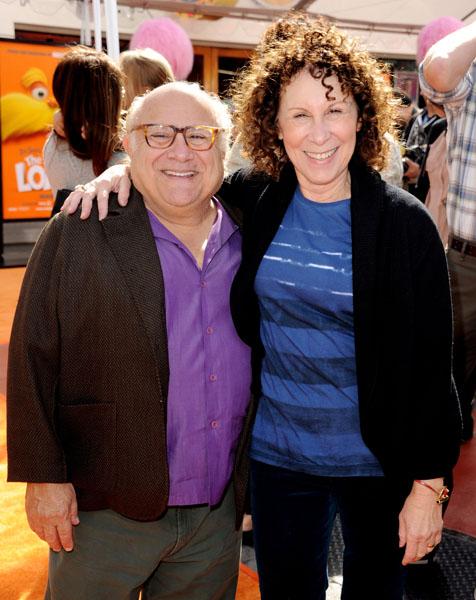 Rhea Perlman: Last year, after Rhea separated from her husband, Danny DeVito, RadarOnline.com exclusively reported that the Cheers star's husband allegedly got intimate in a limo with a woman on the set of his early '90s movie, Hoffa. According to sources, the actor had a reputation for cheating with extras on the set of his films. Still, earlier this year, the couple announced they'd reconciled.
Article continues below advertisement
Jennie Garth and Peter Facinelli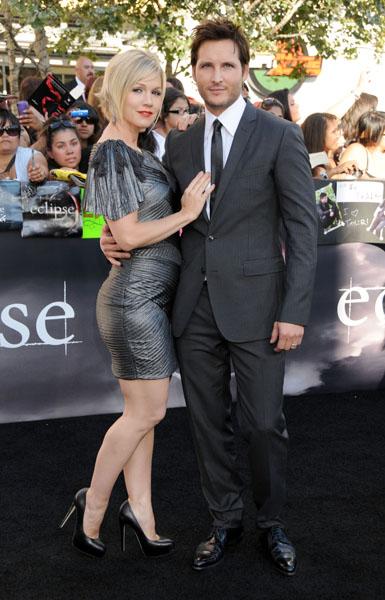 Jennie Garth: Last year the Beverly Hills 90210 star and her Twilight hunk hubby Peter Facinelli announced that they were splitting. The pair denied reports that Peter had been cheating. But a source insisted Jennie was betrayed as Peter had a "torrid affair" with an unnamed Canadian woman he met during the filming of the final installment of the Twilight saga, Breaking Dawn.
Article continues below advertisement
Courteney Cox and David Arquette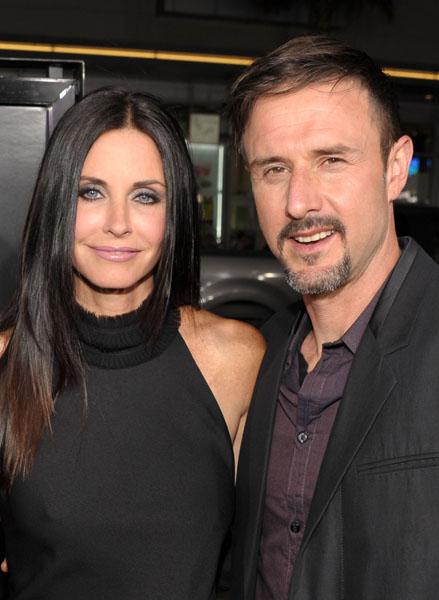 Courteney Cox: The Friends star no doubt didn't take kindly to her husband David Arquette telling Howard Stern in 2010 about having sex with bartender Jasmine Waltz. "I did have sex with her one time, maybe twice," David said, shocking listeners. "My sexual encounter made me feel pretty manly." David insisted it wasn't technically cheating because he'd already separated from Courteney and they were allowed "to see other people." In any case, their divorce was finalized this year.
Article continues below advertisement
Sam Mendes and Kate Winslet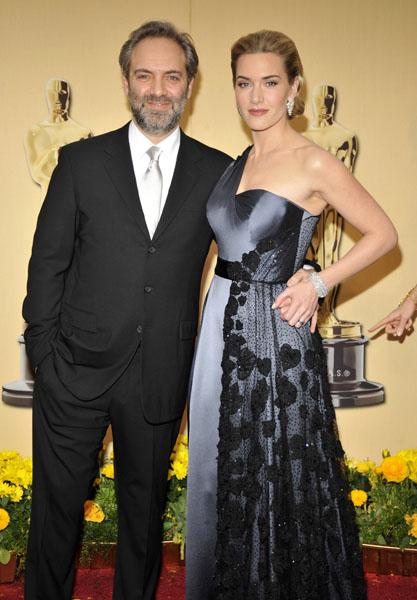 Kate Winslet: Kate and her director husband Sam Mendes split in 2010 with rumors flying The Reader Oscar winner was furious he had a relationship with actress Rebecca Hall. Sam and Rebecca met in 2006 on the set of Starter for 10, an indie film Mendes produced. Although their reps denied it at the time, in November 2011, a spokesman for Mendes confirmed that he and Rebecca had been dating "for some time."
Article continues below advertisement
Kiefer Sutherland and Julia Roberts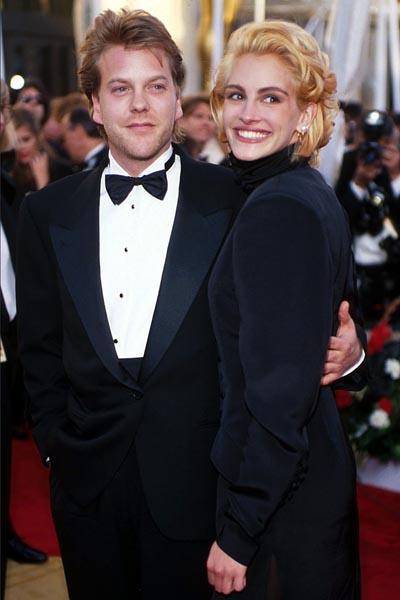 Julia Roberts: After Julia and Kiefer Sutherland met on the set of the 1990 film Flatliners, they fell in love and became engaged. However, just days before their planned 1991 wedding, Julia Roberts broke off their engagement after news broke that Kiefer had strayed with a stripper. Roberts gave as good as she got, running off with Kiefer's Lost Boys co-star Jason Patric.
Article continues below advertisement
Teresa and Joe Giudice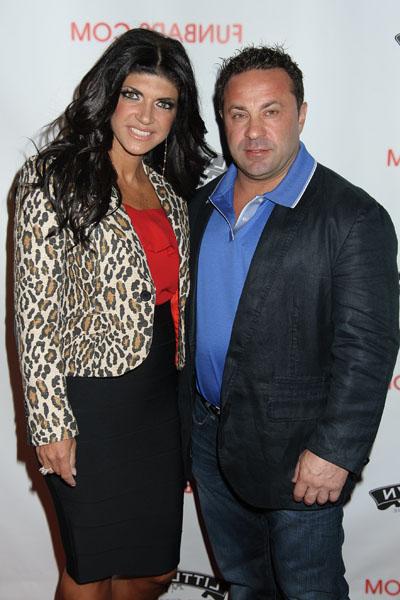 Teresa Giudice: Although this Real Housewives of New Jersey star denies her husband, Joe Giudice, has been cheating on her, viewers were startled last season when Joe was caught making a phone call, apparently to another woman. Adding fuel to the fire, Joe also called his wife the c word! Meanwhile, Life & Style magazine has named the alleged other woman as former nanny Nicole Cemelli, 26. Stay tuned.