Exclusive
Keeping Up With The Drug Habit: Rob Kardashian Knew About Lamar Odom's 'Hillbilly Heroin' Addiction For Over A Year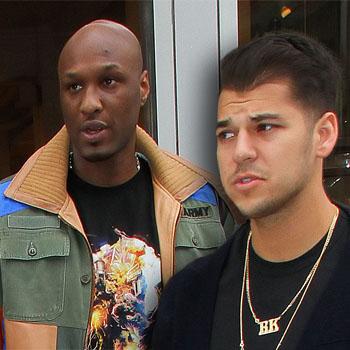 Khloe Kardashian's younger brother and roommate, Rob Kardashian, has known about Lamar Odom's alleged drug addiction for over a year, RadarOnline.com is exclusively reporting.
Odom is said to be suffering from an addiction to OxyContin and Ambien, as RadarOnline.com first reported.
Rob has "known about Lamar's drug addiction for over a year. How could he not as he has lived under the same roof with Lamar and Khloe? Rob even spent a significant amount of time with Khloe and Lamar when he was traded to the Dallas Mavericks," a family insider told RadarOnline.com.
Article continues below advertisement
Multiple sources familiar with the situation claim Odom, 33, has had a drug problem for the past two years and even went to rehab last August under pressure from the Kardashian clan.
However, Khloe's husband left rehab after about three weeks and was clean for last season with the Los Angeles Clippers, reports state.
But the two-time championship sixth man allegedly returned to hardcore recreational drug use, it's claimed, around the same time he was linked to two extramarital affairs.
Meanwhile, Lamar "is really trying to make amends with both Khloe and Rob," the insider added.
"Khloe is being more receptive, but Rob is very suspicious because Lamar is still refusing to go to rehab."