Exclusive
Kris Humphries Believes Kardashian PR Spin Could Affect Lamar Odom's Basketball Career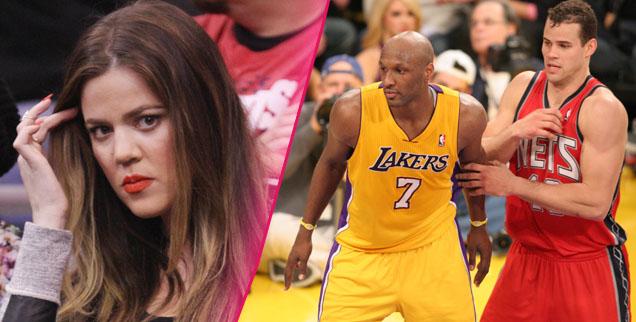 Kim Kardashian's ex-hubby, Kris Humphries, believes that the public relations spin machine behind the reality TV family could affect Lamar Odom's NBA basketball career, given allegations that he's addicted to drugs, RadarOnline.com is exclusively reporting.
Humphries, currently playing for the Boston Celtics, "was never friends with Lamar before he married Kim, or after the broke up," a source exclusively told RadarOnline.com.
Article continues below advertisement
"However, Kris feels really bad for the guy and thinks the Kardashian public relations spin machine will have a negative effect Lamar's NBA career.
"Kris knows first-hand, as he was the victim of countless attacks by a tabloid website during his divorce from Kim. That same website has claimed Lamar was missing when he wasn't, and this is just the beginning. There should be a support group for the former husbands and boyfriends of the Kardashians!"
But as RadarOnline.com exclusively reported, Odom's basketball career isn't over yet, because the 6'10" forward has been thrown a bone by the Los Angeles Lakers -- who have offered to save a spot on the team for Odom if he agrees to rehab treatment.
The team's general manager, Mitch Kupchak, offered a sensational lifeline to 33-year-old Odom's agent, Jeff Schwartz, "because the organization and the Buss family are extremely concerned about him," according to a source with knowledge of the situation, who spoke exclusively to RadarOnline.com.
Article continues below advertisement
Article continues below advertisement
"If Lamar and Khloe are going to work on their marriage, while dealing with a potential recovery, they need to get away from the reality cameras. It only creates more chaos and drama, which is the last thing either one of them need right now."
Although reports claim he's abusing crack cocaine, the source said Odom is suffering from an addiction to OxyContin, as RadarOnline.com first reported.
He also abuses Ambien, a sedative that is used for the short-term treatment of insomnia, sources say.
OxyContin, a prescription-only painkiller sold in tablets, is also known as "hillbilly heroin" or "poor man's heroin" because of its abuse in rural areas. It is a synthetic form of morphine, but is considered twice as strong.
The sensational crisis engulfing the two-time championship player -- including an alleged secret stint in rehab last year -- followed months of headlines that he'd cheated on his reality television star wife, having two extramarital affairs.