Lamar Odom Drug Scandal: He Rejects Dramatic Intervention From Lakers & Clippers Teammates -- Fears Now He 'Can't Be Saved'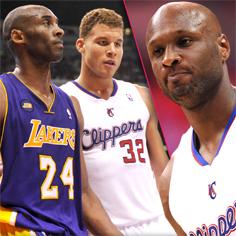 The situation is dire -- drug-troubled basketball star Lamar Odom rejected intervention attempts by teammates from the Los Angeles Clippers and his former team the Los Angeles Lakers, late on Monday afternoon, in a Los Angeles hotel room, RadarOnline.com has exclusively learned.
The dramatic talks lasted three hours during which Odom, 33, appeared to be under the influence of a substance, a source inside the room said.
Article continues below advertisement
"There was a bit of time it appeared that Lamar was going to admit publicly his addition and go to rehab, again," the source told Radar.
"But then, he abruptly bolted from the hotel and left the premises."
A source said Odom had now returned to the family home.
Odom's agent, Jeff Schwartz, was also at the intervention and made a series of calls during which he begged him to return to the hotel, but the sixth-man refused.
Said one source, "One minute Lamar is agreeing that he needs help and 30 minutes later, he says he just needs to be left alone. This is extremely serious, but there is really nothing anyone can do to save Lamar unless he wants to save himself."
The source said there was evidence that Odom had been under the influence of a controlled substance during the intervention.
"Lamar was sweaty and talking very fast. His hands were shaking and he couldn't sit still. He kept pacing in the room," the source added.
Article continues below advertisement
Despite reports he's abusing crack cocaine, the source said Odom, the husband of reality star Khloe Kardashian, is suffering from an addiction to OxyContin, as we first reported.
He also abuses Ambien, a sedative that is used for the short-term treatment of insomnia, sources say.
OxyContin, a prescription only painkiller sold in tablets, is also known as 'hillbilly heroin' or 'poor man's heroin' because of its abuse in rural areas. It is a synthetic form of morphine, but is considered twice as strong.
The sensational crisis engulfing the two-time championship player -- including a secret stint in rehab last year -- followed months of headlines that he'd cheated on his reality television star wife with two extramarital affairs.