Khloe Kardashian Could Ka$h In If She Divorces Lamar Odom, As Ironclad Prenup Gives Her More Money If He Cheated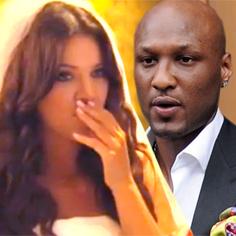 Article continues below advertisement
Another added that while "Khloe is a strong girl, the cheating rumors have really worn her down," which could pave the way for the couple of four years to split.
Should that happen, an ironclad prenuptial agreement they signed prior to exchanging "I Do's" could really come back to haunt Lamar, as an insider told the magazine it has a cheating clause in it to beef up Khloe's parting gift.
According to the magazine, Lamar would have to shell out $500,000 for each year they were wed, as well as allowances for spousal support and shopping.
Both sides of the L.A. power couple have bank accounts worthy envying: Khloe is worth approximately $18 million, which Lamar has socked away some $56 million during his 14-year career on the hardwood. Among the goodies the twosome share include a $500,000 Rolls Royce, a $140,000 Porsche Panamera, and Khloe's $850,000 engagement ring, which would all be divided should the day come.
Stay with RadarOnline.com for all the latest news on this story.