Lamar Odom's Secret Lover Claims She Saw Him Smoking OxyContin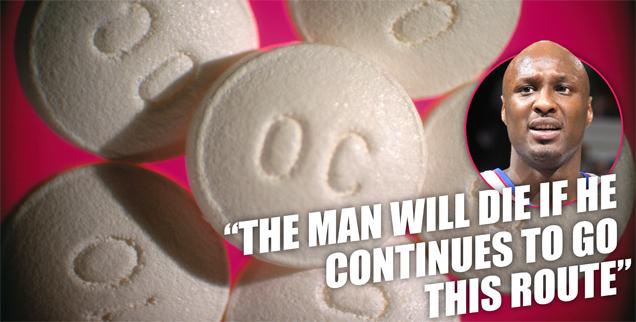 Just weeks out from Khloe Kardashian and Lamar Odom's wedding anniversary, she is finding out just who she's been married to for nearly four years.
In an explosive new interview with Star, Odom's mistress of nearly ten years, Sandy Schultz, reveals the full extent of his years of drug use -- and claims she personally witnessed him smoking OxyContin.
"I believe Khloe had to know he was doing drugs," Schultz insists, claiming she was exposed to his druggie lifestyle almost immediately after they met at an Los Angeles nightclub in 2003.
Article continues below advertisement
"The first time I went to his house, I walked in and all I could smell was the weed," she claims. "Lamar smoked it all the time; it was an everyday thing."
Later, he produced two pink pills and told her to take one, she says.
"He said it was ecstasy," Schultz claims, "and told me, 'It's going to make you feel good and have fun. Don't worry about it.'"
Still, witnessing that recreational drug use would not prepare her for what she experienced when she visited Odom for a weekend in San Francisco in March 2012 -- two and a half years after he married Kardashian.
"He looked terrible," Schultz tells Star. "He had guilt in his eyes. He knew how much it had hurt me, and he was just shaking his head."
Soon, she claims, she found out why.
"At one point, Lamar walked to his backpack, opened a prescription bottle, took out a few little blue pills, grabbed a few pieces of aluminum foil, went into the bathroom and closed the door," Schultz claims.
"All I could hear was the flicking of a lighter over and over and over again. After awhile, I knocked on the door and asked if he was okay. Lamar answered, 'No, no, don't worry about it. Go sit down and watch TV."
Article continues below advertisement
Still, Schultz had a lingering feeling that something was desperately wrong.
"I was concerned, so I rushed to his backpack, looked at the pills, and called a girlfriend to describe them to her," Schultz says. "She told me they were OxyContin. I put the pills back, then walked to the bathroom and opened the door."
What she saw there terrified her.
"Lamar was crouched by the toilet, holding a square piece of aluminum foil with a blue pill on it with one hand and lighting it from underneath with the other," she claims.
"He was inhaling the smoke through a cigarette-shaped tube in his mouth, and he looked sweaty and horrible. I was beyond shocked, and the fact that I had heard him doing it over and over again from outside the bathroom made me think he was going to die."
She charges, "The man will die if he continues to go this route."
The next day, she says, she saw him smoking again, and decided to voice her concern. But Schultz says, "Even after I told him that he had to get off the OxyContin or else he would kill himself, he still smoked another couple of pills. He totally disregarded what I was saying."
Article continues below advertisement
Now, as Odom spirals out of control, living in what sources tell Star is "a crack den," and continuing to smoke Oxys, just as RadarOnline.com has reported, Schultz has a message for Kardashian about the man she says she has "loved my entire life."
"If I could speak to Khloe, I would tell her: Your husband is in the process of killing himself," Schultz says.
"Were you too busy with your career that you couldn't see you married a man who was literally dying right in front of you? If you love him, quit everything else you're doing in life and take care of your husband and your home. Not your Kardashian family home -- your Odom family home."
For more of Schultz's advice to Kardashian and to see the heartbreaking letter she wrote to Odom, pick up the latest issue of Star magazine on newsstands Thursday.