Exclusive
NBA Drug Scandal: Heroin Use Rampant Amongst Star Players, Dealer-To-The Stars Claims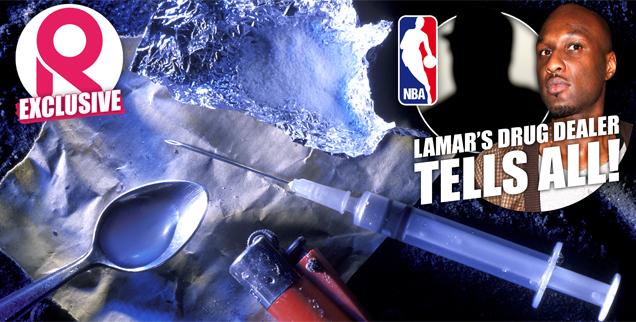 Article continues below advertisement
Critics have suggested drug use is commonplace among players and easily undetected because testing is randomized -- four each season and two during each off-season -- meaning players can go months without having to provide a sample.
What's more, only urine — and not blood — samples are collected, like the Major Baseball League.
In 2005, lawmakers even chided the NBA's anti-doping test program as "pathetic," "inadequate," and "a joke."
Article continues below advertisement
"How bad is it?" RadarOnline.com probed the dealer in our exclusive video interview.
radar_embed service=5min.com src="http://pshared.5min.com/Scripts/PlayerSeed.js?sid=1126&width=570&height=351&playList=517922282&sequential=1&shuffle=0"
"Just as bad as it is in any urban city, in any run down city," he responded.
Whereas the dealer says Khloe Kardashian's husband's drug of choice is to smoke cocaine, the "Mr. Fix It" claims some players are routinely using much harder drugs like heroin.
"Everything from marijuana to cocaine to heroin. Some of them like to sniff heroin," he said.
Shockingly, as RadarOnline.com previously reported, the dealer claimed two-time championship player Odom was high from freebasing cocaine before the Clippers' 14-point win over the Knicks at Madison Square Garden on February 10.
Odom has yet to respond to a request for comment about the allegation.
Said the dealer: "I have players, I don't know much know about the testing and that technical portion of it, but what I do know is that I have players that feel that they perform better when they're high."
Article continues below advertisement
"Are these fringe players, or are these superstar players?" RadarOnline.com asked.
"Both. Both. And it's not just basketball," the dealer said. "It's tennis, it's hockey, it's baseball, it's everything you can name. I have politicians that are some of my favorite clients."
As the right-hand man to a cavalcade of celebrities and high-profile identities, the drug pusher said he's been "in the presence of more than 200 celebrities slash athletes slash musicians using and abusing drugs."
He grinned as he boasted, "I have clients that come and spend upwards of 100 grand in one sitting. Over a weekend they'll spend $100,000 and call in three days and want more."
When asked if he was enabling drug use across professional sports, the man insisted, "I am a victim of free enterprise in America."
He added, "Although I went to a good school… I have a degree in political science… Outside of that, the drug trade is much more lucrative. And it helps me… it's almost like I'm addicted to the drug although I don't use any drugs."