Exclusive
Lamar Odom Is MIA! Closest Confidantes -- Including Sports Agent & Lawyer -- Haven't Talked To Him, Don't Know Where He Is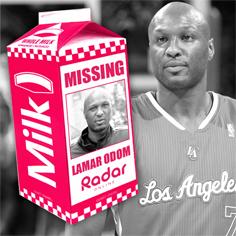 UPDATE 12:49 p.m. -- Call off the search. Even though Lamar Odom hasn't spoken to those trying to save his life, we have learned that he had dinner at Octopus Japanese Restaurant in Downtown Los Angeles on Thursday night. He ate with two people -- neither of which were his estranged wife Khloe. "He was here yesterday," a staffer at the venue confirmed.
---
As rumors continue to swirl about Lamar Odom's drug abuse, RadarOnline.com has exclusively learned that his closest confidantes — including sports agent Jeff Schwartz and his criminal defense attorney — haven't spoken to the NBA star since he allegedly bolted from rehab and they don't know where he is.
Article continues below advertisement
Neither Jeff nor attorney Robert Shapiro "have spoken to Lamar in the past 24 hours, and Khloe hasn't talked to him in over three days. Lamar's cell phone has been turned off, and his voicemail is full," a source close to the situation tells RadarOnline.com.
"He hasn't been answering and everyone is just getting very angry with Lamar. Enough is enough. Lamar hasn't been spotted at his downtown Los Angeles crash pad, and the operating premise is that he is holed somewhere doing drugs."
Article continues below advertisement
Odom's dealer — a different person than the one that opened up to RadarOnline.com this week about the hoopster's vices — "posted $15,000 bail to get him out of jail last Friday morning, after being arrested for a DUI," a source told RadarOnline.com. "The sad thing is that Lamar didn't call Khloe to bail him out."
Meanwhile, sources tell us it's "extremely bothersome that Lamar has cut off contact with Jeff. Jeff has always been able to reach Lamar on the phone 24/7, no matter what.
"He is based on the East Coast and he is very, very concerned for Lamar's safety."