Exclusive
Brutal Workouts, Relentless Drills & NO Khloe Kardashian: Inside Lamar Odom's Desperate NBA Comeback Attempt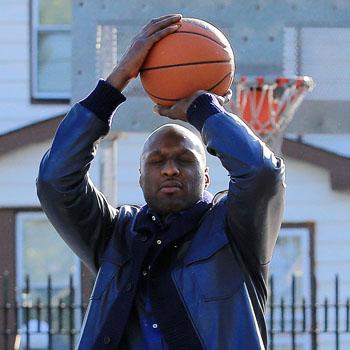 Article continues below advertisement
After meeting with the Los Angeles Clippers on November 15 about possibly re-signing with the team, Odom was spotted on a flight to Providence, Rhode Island, just two days later. In hand, he carried the self-help book As A Man Thinketh, which encourages people to take responsibility for the problems in their lives.
By throwing himself into a new training routine, Odom appears to be doing just that.
The next day, he worked out with elite NBA trainer Rob McClanaghan, according to a tweet by Providence Journal sports writer Kevin McNamara, which was then verified by Yahoo Sports.
McClanaghan has "been fortunate enough to have trained hundreds of players all over the world," he writes on his website, including NBA MVP Derrick Rose of the Chicago Bulls. At the center of his training philosophy, he says, is a focus on healthy living -- something that rumored drug user Odom could certainly use more of.
"Training on the court is a big part of being great, but it takes a lot more than that," McClanaghan explained in a recent post. "You have to be training off the court as well. Lifting, eating right, proper sleep, and a healthy overall lifestyle leads to playing good on the court."
Article continues below advertisement
Sources close to Odom say he's already made great progress to that end. One told Sports Illustrated that he already "looks very good" physically during drills with McClanaghan. "Not ready to play yet, but getting there quickly," said the source.
And he certainly looked happier than he has in months when he posed with fans outside of the gym after his first workout with McClanaghan:
In a sign he's truly getting back to basics, he was even spotted stopping by the on-campus Emporium dining hall on November 19, RadarOnline.com has exclusively learned, before grabbing a post-workout lunch at Simply Thai in Kingston Rhode Island.