Lamar Odom's Dad Speaks Out: 'The Kardashians Are To Blame For All My Son's Problems'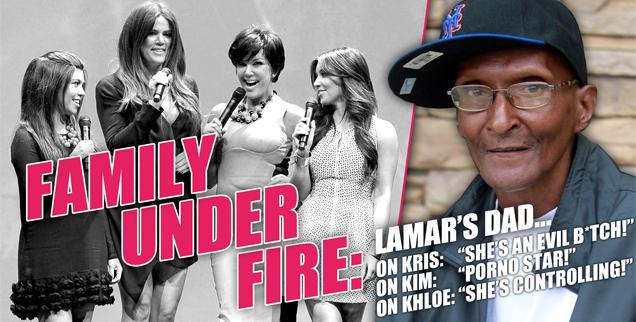 Lamar Odom's father Joe has spoken out on his son's fall from grace and in a sensational allegation, he's pointing the finger firmly at the Kardashian family.
In a no-holds barred interview with RadarOnline.com, Joe rips into each member of the reality TV family and claims marrying Khloe was the worst mistake 33-year-old Lamar ever made!
Among Joe's amazing claims are:
* The Kardashians have cursed his boy and ruined his basketball career;
Article continues below advertisement
* The reality show put too much pressure on Lamar, forcing him to turn to drugs; and
* Kris Jenner is an "an evil b*tch" and dismisses Kim as a "porn star".
Speaking from his home in Marina Del Rey, Calif., Joe reckons his NBA star son has been "cursed: ever since he became a member of the Kardashian clan when he married Khloe, 29, in 2009.
The former post office worker thinks Lamar needs to dump his wife and start life afresh as a single man if he wants any chance of beating his drug addiction.
He said: "Someone's got to speak out, I've got to do something about this. It's simple. They brought him down. He would be better off without them. Let him go and get his life together. I think the best thing for him would be to have a clean break, divorce Khloe and as a single man try and get his life back together."
But Joe thinks Lamar's drug problems are being hyped up by the Kardashian family, especially momager Kris, whom he thinks is trying to push Lamar out as it's ruining their image!
Article continues below advertisement
He says: "The mother has been talking a lot of trash about my son, saying he's on drugs and stuff like that. She's got something against my son, something against my family. Kris Jenner is very negative. She's an evil b*tch. She doesn't care about Lamar, she just cares about their image and money."
Bizarrely, Joe also hints that it's the Kardashians that have caused his son to fall by the wayside and could be the ones giving him drugs.
When asked if the Kardashians take drugs, Joe said: "I blame Kris in particular, she's been through a lot of stuff herself. She's no Cinderella. I can't really say if the Kardashians are doing drugs, but my son would never use hard drugs. I can't pinpoint right now who's giving it him, but I'm going to investigate. The Kardashians haven't been a good influence on my son."
He adds, "They don't give a f*ck about my son. It's more about the damage they do to the Kardashian brand. They brought him down. He'd be better off without them. Let him go, get his life together."
Article continues below advertisement
Joe believes the towering ex-Los Angeles Clippers star has been controlled by the family and not allowed to be his own man.
Perhaps most surprisingly for fans of the family, he also reveals that his daughter-in-law Khloe is not as sweet as she seems to be!
Joe has met her several times and the pair have even posed for pictures together when she came to visit him at his luxury marina apartment.
He said: "I wish he had never got married to Khloe to be honest. She's controlling. Those Kardashian women all are. You get married they think they wear the pants. You just bring them your whole paycheck, that's how it works.
"I saw her totally differently when I heard the way she talked privately. It isn't pleasant. In public she's nice, but if you see her personally you see the real person come out of her. The mother's like that too. The whole family, they put up an act."
Joe thinks his son would still be one of the leading lights of basketball if he hadn't got mixed up with the family.
He said: "They haven't been a good influence on my son. It's been the curse of his life. He hasn't really accomplished anything since he's been with them. Without them, he'd still be in the NBA playing basketball. He'd be playing for the Lakers and be one of the top players in the league."
Article continues below advertisement
The 59-year-old says that if they end up getting divorced he believes it will eat into Lamar's $56 million fortune, adding: "I guess he will have to pay her. He married her. You know how that goes."
He also blasted new mom Kim Kardashian, saying she had no right to judge his son considering she became famous due to a sex tape.
"I heard Kim say they don't have crackheads in their family. That *issed me off. Look at where she came from. We don't want porno stars in our family," adds Joe.
Joe reckons the reality TV show Khloe And Lamar ended up taking a heavy toll on Lamar and was the reason he turned to drugs.
He said: "The reality show was a curse because it put too much of his business in the limelight. That show messed him up because to me his basketball should come first. It took a lot out of him to perform for his job and in that show.
"That's maybe why he took sleeping pills to get some rest, to relax a little. But they arent good for you either. They make you tired. I think he was taking sleeping pills and it slows you down to perform, especially in basketball."
Article continues below advertisement
Joe understands more than anyone the dangers of drugs. He was an addict for many years, but has been clean for a decade and a half -- and that's why he's so desperate for his son to seek help.
His two-time NBA championship son has been banned from driving for refusing to take a blood test after he was stopped for driving under the influence last month. He then entered rehab on September 5 but ended up lasting only one day.
Nearly a week later, he was spotted buying copper scrubbers, commonly used in homemade crack pipes.
Joe says: "I love my son dearly, but my advice to him would be: Leave the drugs alone. If he is abusing drugs, he's got to stay straight and get his life together. Go into rehab. If it is crack he is taking, he's got to get help.
"They've got to get him treatment. Nobody's perfect. I would like him to get his act together. If something's wrong he's got to man up and talk about what's going on with him."