Rebounding & Rebuilding: Khloé Kardashian & Lamar Odom Reportedly Thriving, Thanks To Couples Therapy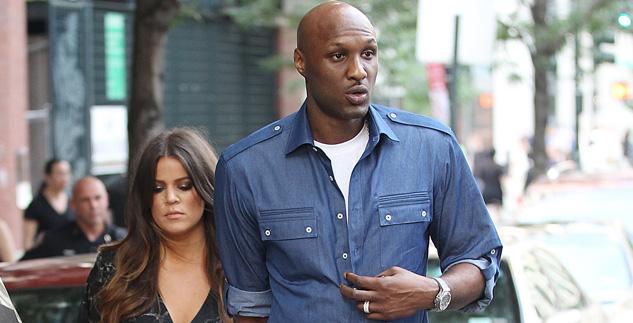 Lamar Odom and Khloé Kardashian are attempting to piece their marriage together with the help of couples counseling.
The couple, rocked with scandal the past few months, have been ironing through their troubles out at a prominent Beverly Hills counselor, Us Weekly reports.
"It was very emotional; they spoke about all of their issues," an insider told the magazine.
"Khloé still loves and cares about him, but healing will take a long time."
Article continues below advertisement
A source told the publication that the NBA free agent, 34, is "doing so much better," as he's "clean and has gained 20 pounds."
As RadarOnline.com exclusively reported last month, Odom has been on a path to sobriety -- even voluntarily submitting to sobriety tests if Khloe agreed to work on their troubled marriage.
Us Weekly's report states the two are on track and Khloe has even invited Odom back into the family cirlce, attending Kris Jenner's birthday party this month, as they "were arm-in-arm the whole time."
But it will take a lot more than a couple good nights together for the couple to have a solid marriage again, because as RadarOnline.com reported last week, Odom has been no stranger to the party scene.
"Against her better judgement, Khloe believed Lamar and thought he could stay clean. Lamar was spotted at Beacher's Madhouse Halloween party, and he was wasted," a source told RadarOnline.com.
"They had mutual friends at the party, and several people told Khloe he was wasted. Lamar isn't on a path to sobriety, and Khloe was living in a fantasy world thinking he could."
Not quite ready to give up, Khloe's promotional tour of the U.K. and Dubai this week is the perfect excuse for her to "step away" and decide what she wants to do about the crumbling marriage.
"She needs time away to get perspective on her life, marriage and feelings towards Lamar," the source said.